There was a thread a few days ago about the differences between the .30-06 books by Gerry Marcello and that produced by Chris Punnett. I could not find that thread, so I am posting it here.
I said I thought a .30-06 specialist would benefit from having both books.
Marcello's make a good checklist while Punnett's is great for history. BTW, for those who do not know, Marcello put out 3 volumes of ".30-06 We Have Seen". Volume 1 is just a small (about 5x7 inches) paperback listing of a few hundred .30-06 headstamps. Volume 2 has everything that is in Volume 1 plus much more, including some poor pictures of a couple hundred boxes. Volume 3 is an listing of new items and corrections to Volume 2 plus a reprinting of the box photo section from Volume 2 with nice clear images. Both Volumes 2 & 3 are 8 1/2 x 11 hardcover bound books running 221 pages for Volume 1 and 254 pages for Volume 3. You need both Volumes 1 & 2. Forget Volume 1.
Chris Punnett's ".30-06" (382 pages) is absolutely a "must have" book for ALL cartridge collectors, not just .30-06 specialists. The histories of the various companies that made .30-06 world-wide is applicable to many other calibers. Especially for the .30-06 Specialist, if you can only buy one book on .30-06, make it Punnett's, but you really need Marcellos's Volumes 2 & 3 as well.
Here are sample pages from the two books to show the differences:
From Marcello, ".30-06 We Have Seen"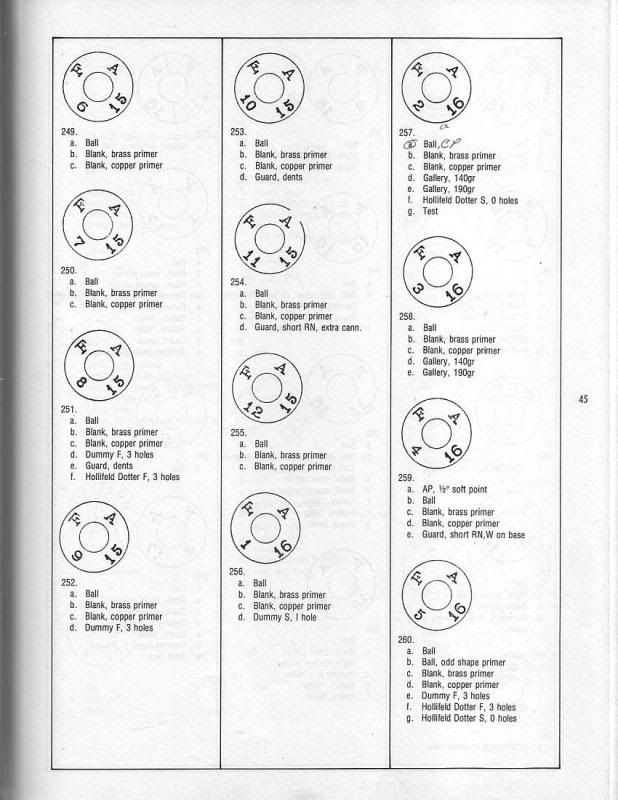 From Punnett, ".30-06"