I try help to identify this AP .303 cartridge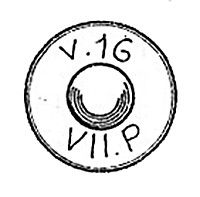 Your cartridge is a .303 Ball Mk VII P and was made in 1916. This was the first of the British armour piercing rounds and used a 174gn steel-cored bullet designed by Kynoch. It was introduced to counter sniper's armoured shields. I'm not actually certain what the character top left is supposed to be…it looks like a 'V' but there was no such code used on British ammunition. It was undoubtedly stamped with a damaged bunter, it might be a 'K' for Kynoch or possibly an 'M' for Nobels Explosive Company. A photograph of the headstamp would possibly help.
Thanks Jim
the drawing is taken from an aviation manual of 1924…
Badly stamped "K"…often also seen on normal Ball Mark VII.
Doc AV
Being a drawing, this could easily have suffered from artistic licence, however, Kynock did produce their version of the VIIP in 1916 and according to Temple, sent 100,000 rounds to France in mid 1916, so that is probably the best guess.
does anyone know how many cartridges 303 were sent to Italy during the Great War?