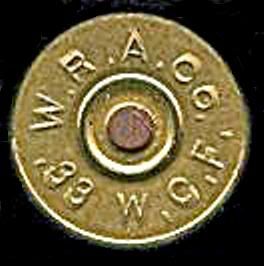 The primer shown in the above cartridge (enlarged photo) appears to be of a two or three piece construction (depending if you count the anvil or not.)
The outer ring appears to be brass, with the inner cap made of copper. If it helps the inner cap has a "W" embossed on it. I have a number of W.C.F. cartridges, all have a "normal" primers in them. Also no other cartridge in my collection has this "two" piece primer construction.
Did Winchester load other cartridges with it? Or was this a "better idea" that didn't work out? Any information would be appreciated.
Thanks,
Jones