LOOKING FOR PHOTOS OF AMMUNITION SPECIMENS FOR THE SOVIET WW2 ERA 37MM SPADE MORTAR.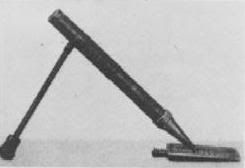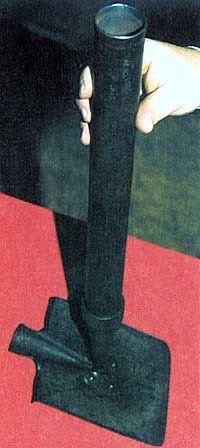 Very unusual! Hope someone finds pics of its ammo! At one time I wanted to collect small mortars under 50mm after getting a really cool 37mm French mortar years ago :-)
THIS AND THE CIA SILENT MORTAR ARE THE 2 RAREST. I HAVE NEVER SEEN A REAL ROUND FOR THE SOVIET 37 EXCEPT IN ACTION PHOTOS LIKE THE ONE SHOWN.
Here one of the 3 different shapes I have seen so far. One had a special mortar practice fuze for black powder loaded practice shells. The regular fuze was the M-50 (as on image) which was also used on 45mm AT gun HE shells.
After the mortar was withdrawn from service due to its poor accuracy and little effect on targets remaining stocks of ammunition were reworked to POMZ-37 AP mines with a MUV pull fuze and a tripwire on it.
THANK YOU. CAN YOU SHOW THE BOTTOM OF THE LAUNCHING CARTRIDGE WHICH SEEMS TO BE IN PALCE ?
Unfortunately not because I got the image from elsewhere and do not know who owns this one.
THANKS FOR SEARCHING OUT THE PHOTO IN ANY CASE. THERE WAS SUPPOSED TO HAVE BEEN A SOLDIER UNEARTHED IN THE ST. PETERSBURG REGION WITH A FULL BELT OF THESE BUT I HAVE NOT SEEN ANY MORE ABOUT IT.