This is certainly the appropriate time of year for these cartridges to pop up.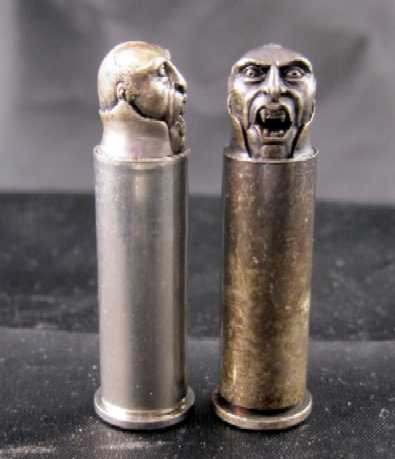 They were purchased from a moving sale of the belongings of the widow of author and gun collector Horace Greeley IV by a New Jersey antiques dealer. The appear to be quite similar to the cartridges in a cased and engraved 'Vampire hunter's' Colt Detective Special revolver that is in the NRA museum. Information on the revolver can be found here:
http://www.thefirearmblog.com/blog/2010/10/19/vampire-gun-at-the-national-firearms-museum/
The headstamps on these two are shown below. A similar cartridge has been listed on Ebay, but it has a PMC headstamp. The revolver set is thought to have been put together in the mid-70s, but I am not sure that the Winchester or PMC headstamps would date from that early.