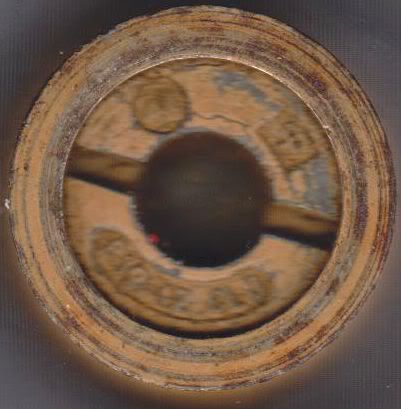 HI ALL,
IS THIS AN EDUCATIONAL ROUND OR ??
IT IS A 40MM BOFORS PROJECTILE WITH A ALLOY PLUG SCREWED INTO WHERE THE FUSE WOULD BE WITH
42 STAMPED AT 2 O'CLOCK,
12 STAMPED AT 5 O'CLOCK,
CIRCLE WITH EXTENDED LINE THROUGH CENTRE AT 7 O'CLOCK,
1Z AT 11 O'CLOCK.
THE BASE HAS A PLUG STAMPED P19 1Z CLD AT 6 O'CLOCK'
41 AT 11 O'CLOCK
THE SAME SYMBOL AS IN THE FRONT CAP AT 1 O'CLOCK
HOPING YOU CAN HELP. TERRY.