It measures about 11.12x53.35mm, straight rimmed body and a round nose copper (?) jacketed bullet. What is it?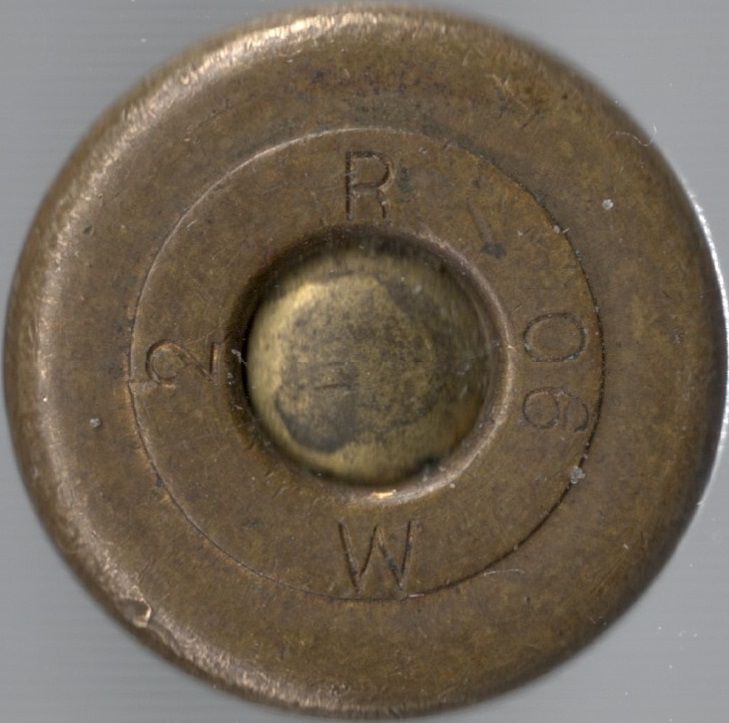 The case should be a .45-70-500 rifle contract round loaded by Winchester in February 1890.
It may have been altered and reloaded with a FMJ bullet later.
Thanks, John. Here is a lateral view. I don't see any outright reloading marks, but then I am no expert.


With the GM bullet & crimp I 'd say is a very UNCOMMON if not scarce, Winchester contract armorers dummy with an unstruck primer making it quite desirable. GREAT round.
Vlad
I hope Pete is right. Maybe those hours spent picking through dumpsters has finally paid off. ;-)
Pete
What would the insides look like?
Ray
square wood distance piece, if correct, see Dan Shuey
Mine has a struck (heavily) primer & a 1 91 date, otherwise the same
TO ALL
THE BULLET PROFILE APPEARS TO BE THAT OF A 405 GRAIN BULLET, NOT 500. TRUTH IS, FROM A SECTIONED SPECIMENT I OWN, THE BULLET LOOKS A LOT LIKE A .45 AUTO BULLET AND ALTHOUGH I'VE NEVER WEIGHED IT IT WOULD BE A LOT CLOSER TO 230 GRAINS THAN 405. JIM TILLINGHAST HAD A BOX OF THESE MANY YEARS AGO WHICH IS WHERE I OBTAINED MY SPECIMENS. IF IN FACT THE BULLETS ARE .45 AUTO BULLETS IT WOULD INDICATE THAT THESE WERE ASSEMBLED LATER THAN CIRCA 1911.
Total weight on mine with the 1, 91 date is 461.0 gr.
Another with this same shaped GM bullet, two small mid-case holes, a wood distance piece and a small "W.R.A.CO. .45-70" headstamp on the ringed potion of the head weighs 458.3 gr.
In a book by William Dibbern called 45-70 Cartridge Variations the copper FMJ is listed for numerous months and years also in a 500 gr variation. With and without holes in the case.
I weighed an 1891 vintage FA-made .45-70 case and a WRA case of about that vintage and they both weighed in the vicinity of 160 gr., so it seems unlikely to me that a wood distance piece of plausible weight and a 230 gr. .45 auto bullet would approach a 460 gr. total. Jack
I weighed my cartridge (the one in the beginning of this thread). It is 29.13 grammes!!! I think it is 449.5 grains.
There is no gun powder movement when shaken (not stirred).