With an overall cartridge length of 1.448 were these 45 ACP shot cartridges not too long to use in pistols?[img]
[/img]
I think you were meant to load them into the pistol by hand and not the magazine.
These rounds, developed and manufactured by Peters Cartridge Company, were originally intended for riot control and for use only in the Thompson Submachine Gun. The earlier Peter's boxes carrry that admonition - "For Thompson Submachine Gun" or similar wording. They were used in a special, 18-shot stick magazine that was wider, from front to rear, than was the standard stick-type 20-round magazine. The extra width was possible for use in all TSMGs because the magazine cut-out in the receiver was wider than the normal stick magazines, accomodating the deeper 50 and 100 round drum magazines.
The last Peters box that I know of and have for these rounds, before they were discontinued, has the statement on the back "These cartridges are adapted to Colt Model 1917 revolver with clips, Smith & Wesson Model 1917 revolver with clips, Colt Automatic Pistol when fired single shot, and other guns adopted to this cartridge." No specific mention was made of the TSMG. By that time, the TSMG was by and large, either illegal for civilians, or simply hard for a cvilian to obtain, depending on the State, and they were not in such active use by Police Departments. It was probably also past the time when a police department could have gotten away with using these shot cartridges to quell demonstrations or even riots, but that is just conjecture on my part.
The Peters-headstamped cartridges can be found with one cannelure (early) or two around the case, and in brass cases or nickeled-brass cases. As well as with red sabots, there is a version with the nickeled-brass case and a blue sabot, the latter from the late box mentioned above, that drops specific mention of the TSMG. I have never been able to ascertain precisely why they changed the sabot color to blue; that is, if it has any special significance.
The military contracted for these loads as well. We have seen them loaded by Evansville-Chrysler and by Remington Arms. They are basically the same as the Peters cartridge, with red paper sabot and two grooves in the case.
An experimental round made by Remington circa 1943 and headstamped "R A 43" had approximately the length of a standard .45 ball FMJ RN cartridge. This was for use in the M1911 pistol magazine, but beyond that, and the fact we have one in our collection, we know nothing else about the tests of it. The normal, long cartridge (1.437" overall length) was initially designated the T-23. I have a T-23 box label that has the admonition printed on it, in English, German and Japanese, "Use only for hunting game. Do not use against enemy troops. (Nur bei der jagd auf Wild zu benutzen! Darf nicht gegen feindliche Truppen gebraucht werden!). This statement was there primarily to protect any serviceman captured with these rounds in his possession, against charges of violating laws against the use of shotguns against enemy troops. Odd admonition, since the Marines used plenty of shotguns in the island fighting in WWII.
The T-23 designation was quickly changed to "M12" and eventually, the round was replaced, probably due to the fragility and swelling of the paper sabot under combat conditions and certain weather conditions, by the all-brass-cased shot cartridge M15 (T29) in December 1943.
Frankford Arsenal made a couple of different shot loads, experimentally, with wood sabots duirng WWII, but that is a different story.
There is one more load that must be mentioned, as it can be confused with the commercial Peters shot load, except that the cartridge is much lighter in weight than the shot round. It is a brake reflex testing cartridge, and can be found with NO groove or with two grooves in the case. It has the same red sabot as the shot rounds, but the sabot is filled with yellow chalk. If you are holding a shot cartridge in one hand and the brake reflex testing round in the other, you cannot confuse them with each other - the weight is that different!
Well dang it John! I was in the process of typing up a response that was almost word for word identical to yours. ;) ;)
Another GREAT post by the Master.
I hope that someone is looking at somehow preserving all of the great information generated on these Forums. It's just a shame that more IAA members do not participate. They don't know what they are missing.
Thanks John.
Ray
Ray - thanks for the kind words. Don't cnsider myself a master at anything, but rather a "Jack of few trades and master of none." I have put some hours in on these shot loads, though, as I like them.
I made one boo-boo in my explanation (I hope not others). I mentioned that the brake reflex test loads with yellow chalk in the sabot are found with cases with both one and with two cannelures. For my own experience, that is not true. Actually, I have seen, and have in my collection, one with NO grooves on the case, and one with the two grooves usually found on the shot cartridges. I am going to edit my first posting to remove this error.
As long as we have a thread going here, later I will see if Joe can post some scans I will make of various pre-1946 .45 A.C.P. shot loads, and box labels. I will stay away, for now, from post-war loads. As they say, a picture is worth a thousand words. I will also picture the brake reflex cartridges.
I have a few of the 45 shot loads with an EC 45 I was told it was a military survival load for the 45 Auto. Was it a Thompson load too? Vic
I suspect that the military loads were meant for single loading in the M1911 & M1911A1 pistols. I am not expert on the TSMG and its accessoies, but I am not aware of any large number of the special 18-shot magazines procured by the military during WWII. By that time, the commercial box was already mentioning use in the two Model 1917 Revolvers, Smith & Wesson and Colt, in clips, and for single-loading in the semi-automatic pistol. I don't think anything would have precluded their use, single loaded, in a TSMG either, although you would not be able to tip the gun muzzle up, or the round would have fallen out of the chamber of this open-bolt-firing weapon. For that reason, it is not likely they would have been issued for survival use for the TSMG in the absence of the proper magazines for them.
The primary use by the military of the T-23(M12) load was, after all, survival for the taking of small game, and not for riot control. Further, it was soon replaced by an all-brass version, the M15.
I hope soon to have pictures of the various loads and the boxes on this thread. I have not heard from my friend and partner Joe, and trust he is just away from his home right now. Unfortunately, I cannot figure out how to post them myself, being very, very ignorant of computers.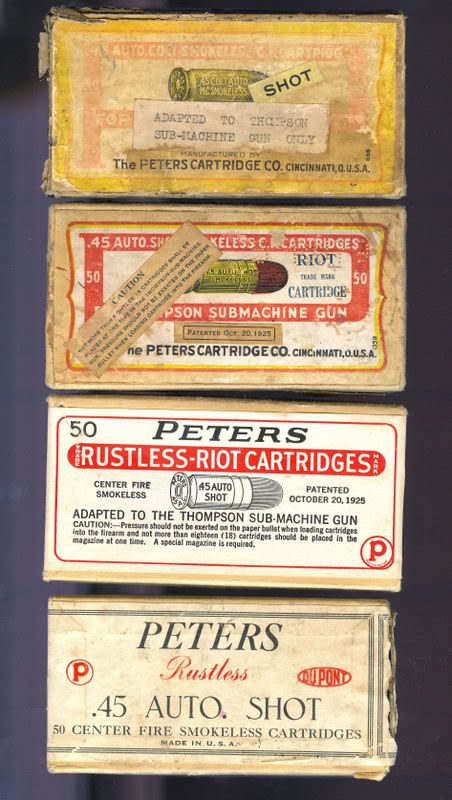 Various .45 Shot cartridges made before 1946. Top Row are all Peters commercial cartridges. Left to right: Single case cannelure; double, low position case cannelures; souble, high position case cannelures; nickeled case with red sabot; nickeled case with blue sabot; after the gap, a yellow-chalk brake-reflex test round with no case cannelures; brake-reflex test round with two cannelures.
The bottom row are all military cartridges. Left to right: Evansville Chrysler standard T-23 (M12); Experimental steel-cased, rosebud crimped shot cartridge headstamped "E C 4" (1944 production); Remington Arms "R A 42" standard T-23(M12); experimental Remington Arms "R A 43"
shot load with ctg.OAL of a ball round; Remington Arms M12 round with silver sabot (painted over red. Believed to be legitimate, but unknown reason); Remington Arms "REM-UMC .45 A.C.P." pre-production M15 shot load, slightly longer OAL than production rounds and commercially headstamped; standard Remington Arms "R A 4" M15 shot cartridge; experimental Frankford Arsenal "F A 43 steel-cased, wood-saboted shot round; experimental Frankford Arsenal "F A 43" brass-cased shot round, standard RN bullet jacket (GMCS) filled with shot and slit on both sides for identification.
Picture two of various boxes:
Various Peters Cartridge Company boxes for the paper-saboted shot cartridges. All mention for use in thompson Submachine gun only somewhere on the front or rear (not shown) box labels. The bottom box contained rounds with nickeled cases and with red paper sabot.
John Moss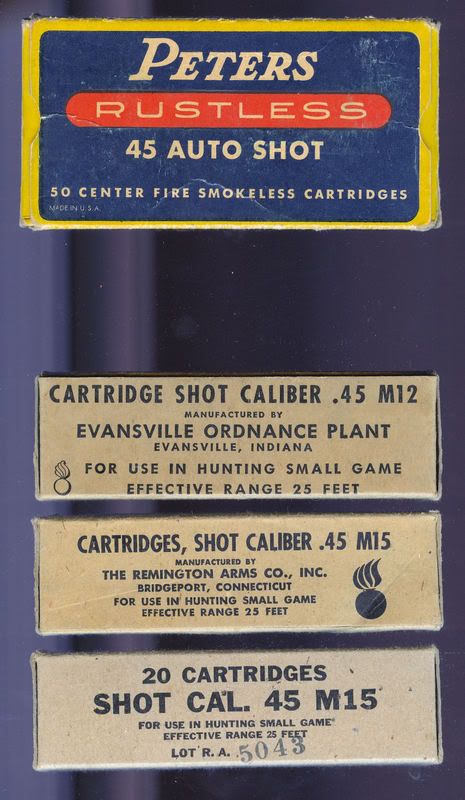 Various shot cartridge boxes. From top to bottom: Peters commercial
box. Contains cartridges with nickeled cases and blue paper sabots;
Evansville Ordnance Plant box for M12 Shot Cartridges; Remington Arms
Company, Inc. box for M15 shot cartridges; later Reington Arms box for
M15 shot cartridges. these boxes are usually originally wrapped in a
waxed paper wrapping with the same printing on it as have these boxes.
We have not showed one, because the specimens at hand are dark and
rumpled, photographing poorly.
Second picture:
Caption:
This is the early Remington arms Company box for the T-23 shot
cartridges, with admonition about the use of the ammunition in English,
German and Japanese. We don't have a specimen of the box as originally
assembled box. this is the original data card from the H.,P. White
Laboratory Library, this and some other of their cards now in our own
collection.
Collection of John L. Moss