I came across some of this ammo today online and had never heard of it. Granted I don't get into the cowboy action shooting scene much, but I also found no mention of it in the IAA journal index, and only a couple scant mentions in the forum, with no photos. Apparently the cartridge began sometime around 2005 and was a proprietary load marketed by "Adirondack Jack" (Gloversville, NY) mostly via his website of the time 45cowboyspecial.com. Jack had the brass made & headstamped by Starline, and in a farewell letter in Dec '12 when he closed shop, Jack explained that he had over 500,000 cases made & sold to that point. He sold his operation to Ken & Carolyn Rucker (of Speedbump Stockworks - San Antonio, TX), who carried on production orders & sales until January, 2015 when the caliber was sold to American Cowboy Ammo http://www.acammo.com/index.php/new1/93-rugged-precise-reliable
The cartridge is basically just a .45 Colt short, meant to have lighter recoil for frequent C.A.S. enthusiasts. It looks similar to a .45 Auto-Rim or a .45 Webley, but the rim is the exact same as a .45 Colt. So any gun which can fire .45 Colt can also fire these, as well as modified short-stroke 1894 Marlin lever-actions.
I have ordered some today and will have a good headstamp scan next week, but I did find some images online: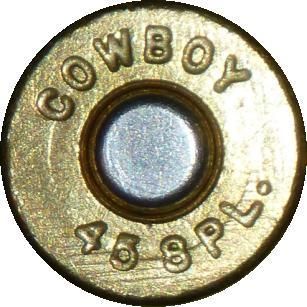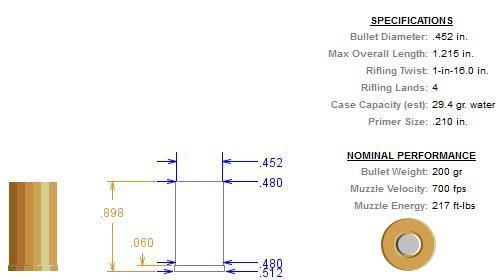 The new box from American Cowboy Ammo:

Entry at Municion.org:
http://www.municion.org/45/45Cowboy.htm
Here is a Wiley Clapp article from American Rifleman in Dec, 2013:
http://www.americanrifleman.org/articles/2013/12/18/a-new-cartridge/
Both Centerfiresystems & The Armory sell 50rd boxes:
http://www.centerfiresystems.com/AM0145.aspx
http://www.the-armory.com/shopsite_sc/store/html/aca-45-special.html
The caliber has made enough noise to be used successfully by the 2015 SASS European champion Ray Heartless (Swedish) earlier this year when he won in Slovakia.