All,
We've discussed a topic on another board that I thought would be of interest here, and I want to see if anyone has further insight. I think we've pretty well determined in the post link below that the transition of standardization from 20-round boxes to 50-round boxes of military .45 ACP ammunition began in 1942, rather than 1943, as stated in the 1978 History of Modern US Military Small Arms Ammunition Vol. II 1940-1945 , by Hackley , and the 2010 book, U.S. Military Automatic Pistols 1920 - 1945, by Meadows. Does anyone here know of a specification change order that might document a date for the changeover? Was the 1943 date stated in both aforementioned books based purely on collector observations?
machinegunboards.com/forums/ … opic=13851
We have 2 examples of 1942 Remington Arms .45 ACP packaged in 50-round boxes. An example from my collection is shown below. This appears to be a transitional box, as it uses the old 20-round box stencil.

(Above images David Albert Collection)
An example from another member is shown below. These cartridges have RA42 headstamps, and the lot number precedes the lot number on the example from my collection.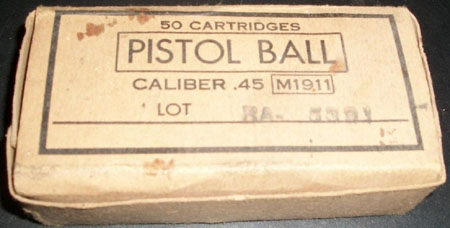 (Image courtesy "Inertord" on Machinegunboards.com)
For comparison, here is an example of the earlier, 20-round box, featuring the RA41 headstamp. Notice how the stencil closely resembles my later, 50-round box.

(Image courtesy "Inertord" on Machinegunboards.com)
So, I think the 50-round box transition began in 1942. Does anyone here have a different opinion?
David Albert
dalbert@sturmgewehr.com