I know the topic has been discussed here before but I don't believe it was ever made clear who made the .577/450 Martini-Henry cartridge with the 'F. T. C. & double-headed eagle' headstamp as per my poorly stamped example.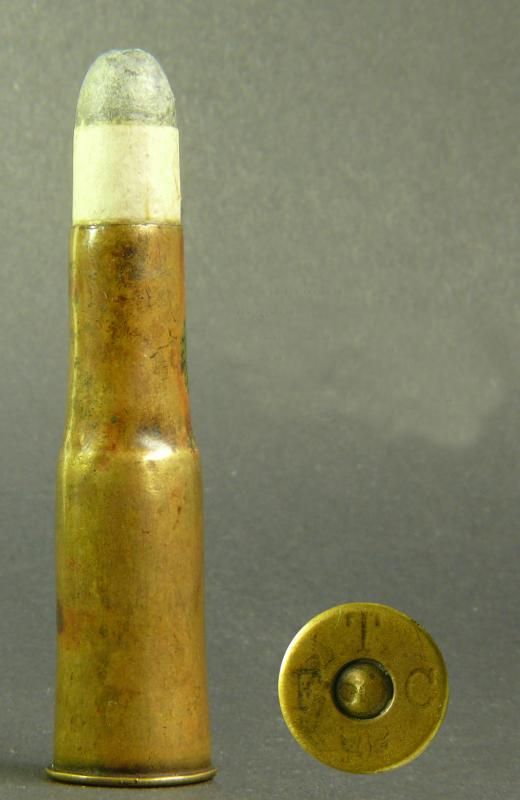 I was under the impression that these originated from Turkey until I read Stuka222's post stating that they were not Turkish but came from The Balkans, probably Montenegro. But if that is the case then what does the 'FTC' stand for?
viewtopic.php?f=8&t=15207&hilit=Oman
Chris Steinhauer says that they came from FTC, Tirana, Albania but again, what would the 'FTC' stand for?
I have also found an extract of a book entitled 'Arming the Periphery - The Arms Trade in the Indian Ocean' which deals in great detail with the historical trading of weapons & ammunition across the Persia, the Gulf & Northwest Frontier region. The extract that caught my attention was mention of an incident in 1901 when a Mahsud raiding party dropped cartridges which were found to be marked with 'F.T.C.' and the 'double-headed eagle emblem'. The book goes on to say that these were the initials of Fracis, Times & Co. and that the double-headed eagle was the emblem of that company. As far as I can make out Fracis, Times & Co. had their head office at 27 Leadenhall Street, London but had offices in several locations around the world and supplied arms & ammunition worldwide. Apparently weapons were also found bearing the same FTC & eagle mark. Could it be that these cartridges were made for Fracis, Times & Co.?