In the pistol cartridge lot. This one stands out. May be a cut down rifle case, but doesn't exhibit any cutting marks. Just a hint of a roll crimp and apparent where the bullet seated inside the case. Brief search didn't turn up anything on this.
OAL: 0.784"
Mouth ID: 0.608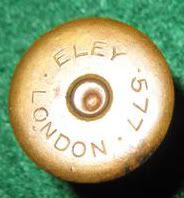 And part of the lot:
And a most supeb h/s/ listing. Well, better, anyway.