Two of my eight .60 cal's in my collection API and Incendiary
Sqeeeeeeeze the trigger. Re the first photo. :-)
HEY I croped didn't I LOL
Steve
@ stevef: One of the rounds [from the top photo] still has the black ink marks visible on the side. Can you post here those markings??? Thanks, Liviu 03/04/09 P.S. What type of round is the one dated 1947???
Both US 60 cal rounds. FA 47 is an API round with the marking on the side. FA * * 51 is Incendiary which also has markings on the case but barely visable
I could not get all the text in the picture. It says
LOT NO. 24
FA
1947
@ stevef: I have a fired .60" / 15.2X114 brass shell case [also headstamped "FA" over "47" and badly dented at the shoulder area] which has no side markings left. I was expecting more side markings such as: type of projectile, type of propellant, etc. Liviu 03/05/09 P.S. I should mention that my fired .60" / 15.2X114 brass shell case is crinkled [with longitudinal markings] showing the gun which fired it had a fluted chamber in order to aid extraction.
All of my .60 rounds
Fired case

Dummy round

Ball electric primed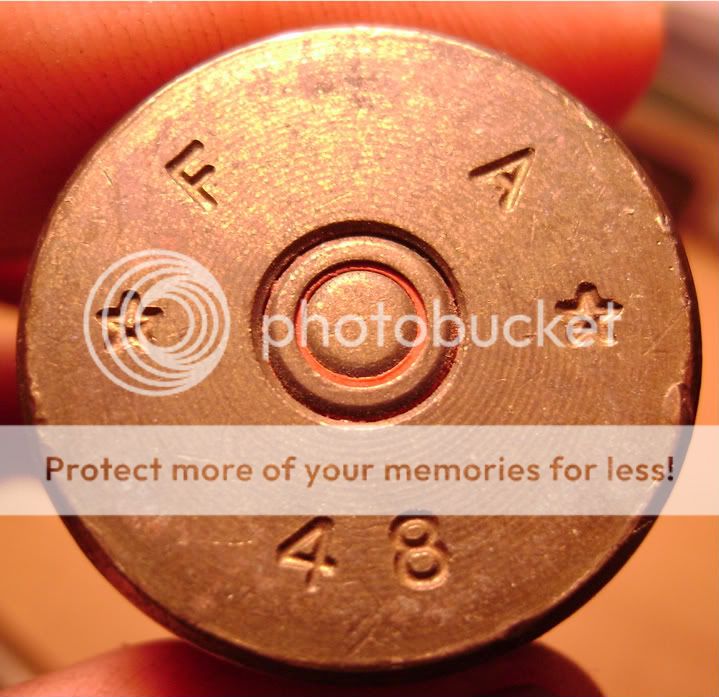 Ball live hole drilled in primer

Ball

Ball

Ball

Three of the 1948 H/S differnt Cannulers

@ stevef: I only have two .60" / 15.2X114 brass shell cases, both fired. One is headstamped "FA" over "47". The other is headstamped "SL" over "44" with a 5-corner "star" barely visible at 3 o'clock position. Normally "SL" stands for "St. Louis Ordnance Plant" [from St. Louis / Missouri] but from what I know that particular "star" shows that the round was made at "Frankford Arsenal" [from Phiaelphia / PA] using tools removed from St. Louis Ordnance Plant. => It looks like the 0.6-inch / 15.2X114 round was developed in US from the German MG151 for the "T1E1" anti-tank rifle and the "T17" aircraft gun [both weapons were never used in combat]. After 1950 the 0.6-inch round was finally modified to become the well-known 20X102 potent round. => QUESTION: Which is the earliest and latest date marked on a 0.6-inch / 15.2X114 headstamp??? Liviu 03/05/09
Man! Look at those close-ups! Steve, you're a quick study. Congrats.
Slick Rick
LOve that tulip!!!
Thanks!
Steve
Liviu,
The Oldest date I have is FA 45, newest FA 51. I would like to assemble a H/S check list. If everyone could list your headstamps for the .60, that would be great!
Steve
Steve
There's a lot more to the Cal 60 cartridges than you would think. HWS II devotes 30 pages to it. Shows different cases, a lot of headstamps, and a plethora of bullets too.
Ray
Ray,
WOW! I would have never thought. I knew there were a lot more than I have, but not that many!
Thanks
Steve
Here's my contribution - sorry about the poor quality. The previous owner coated them with polyurethan, which didn't help the pictures.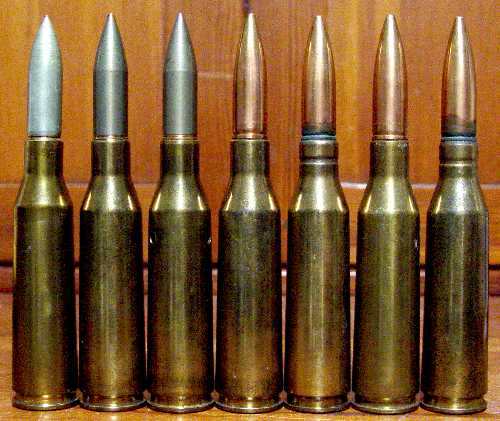 Headstamps are in the same order as the side view of the cartridges:
CAL. 60 LOT 7663 W.S.M.CO. 42, S L 44, F A 45


F A 47, F A * 48 *, F A * 50 *, F A * 51 * (the stars have 5 points)


Incidently, the cartridge in the picture headstamped CAL. 60 LOT 7663 W.S.M.CO. 42 is one of the developmental cases with more taper - the shoulder measures 1.003" rather than the 1.045" - 1.050" of the later examples. Also, the last three have electric primers.
Guy,
I noticed that most of the electric primed ones have the heavy neck crimp. However my percussion primed FA * * 48 round also has the heavy neck crimp.
Steve
Are you looking for headstamps alone, or do you also want projectile variations within a given headstamp?
I have a ball round with a projectile/crimp similar to the one on the right in Guy's photo (electric primer) with no headstamp.
If you're looking at projectile variations too, I have an inert-loaded ball round (electric primer), headstamp F A * 48 *:
Guy, can't you remove the polyurethane? I use a product called "NitroMors" to remove lacquer. This is a clear gel paint stripper product that you paint on with a brush then wipe off later, taking the lacquer with it. I have yet to see any lacquer that this stuff can't remove. There is probably a similar product available in the USA.
What is the average price for a .60 Cal round in the USA? There are a few in the UK but they seem to be about
Falcon
My records show I paid $42 for my 60cal ball ( F A 50 ) round at SLICS in 2007.
IIRC the asking price was $50, but was was reduced as part of a multi-cartridge deal