7.62x25 API headstamp 3/43, Ulyanovsk Russia, Black over red tip wolfgang
As always a great sectioning job.
Charles.J.Wells (Jack)
Sgm. USA. Ret.
Very nice!
Wolfgang, it's interesting that there is no little "tail" sticking out of the back of the core. The other pulled or cutaway APIs I've seen all had the tail. Nice work.
Wolfgang, this is the "P-41" with index "57-BZ-132".
Jon, if you refer to the "tail" which looks like a small pin sticking out from the back of the core it is just a remnant of the turning process where the core got cut off the stock bar when it was finished. Removing these "tails" is merely a question of quality assurance, applied standards and the balance between work required and benefit from that action. All that is critical in war time when the aim is highest possible output.
A very interesting detail of that cut is the out of centre position of the core. One of the old problems of steel cored projectiles that makes them unsuitable for sniper ammunition - hence the Russian approach of steel cores which are located in the front section only so the precision will not be influenced by an out of centre core and sowith a varying thickness of the lead sleeve.
Interesting, Alex. I have read in other places that the "tail" was an intentional marker for API projectiles.
Jon, you got an image of those "tails"? Just to be sure we mean the same thing.
Not handy. It looks like a little nipple on the back end of the core, only visible on a pulled bullet.
Sounds much like what I meant above. No hurry with the images, show them to us later if possible.
Thanks for the kind words, looks better in person. The steel core is slightly tilted as well as being off center. Going to write down that info right now before I forget. Maybe this is what JonnyC is talking about, but on a .357 mag Nat. Cart. Black Steel? wolfgang
Correct, ths is what I meant.
Here's the one from my collection.
Wolfgang, I might need that as a variation! Coming to Morgantown?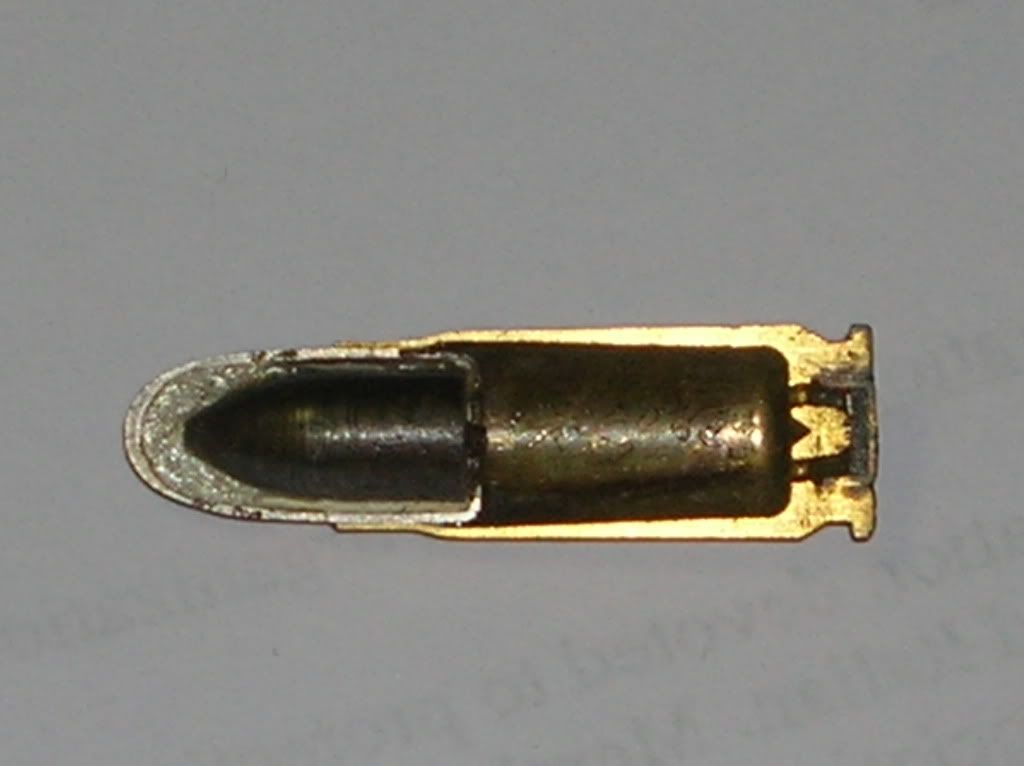 Jon, yes, that is what I meant.