Sunday I was surprised to see the front page, top of my NYT featuring two headstamps I recognized.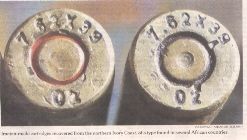 The story is interesting, dealing with the seaqrch by a British researcher who in 2006 ran across this ammunition being used in most of the trouble spots in Africa. Both 02 & 03 dates were noted. One of the places it turned up was in Guinea in 2009 when about 150 protestors were killed by soldiers. The ammo also showed up with the Taliban.
The researcher appears to be a James Bevan who is the director of "Conflict Armament Research" an English firm that tracks conventional weapons. In late 2011, Mr Bevan obtained copies of a bill of lading for 13 shipping containers seized in Lagos Nigeria in 2010. The containers were listed as containing building material, but conceled behind the building material was this ammunition. The bill of lading indicated the containers originated in Iran. The shipping company was based in Tehran. Apparently the US military had already identified this ammunition as Iranian according to documents obtained under the FOIA.
I know there is a lot of this kind of research going on. I think both we and the researchers would benefit if we could establish communications. In this case, cartridge collectors strongly suspected an Iranian connection for these cartridges in 9x19mm around 2005.
Cheers,
Lew