I own hundreds of the German 15 round boxes and have seen thousands but have never seen this before.
I bought this from a dealer who wraps all of his boxes in heavy plastic to keep them from damages in transport and display. This box was so done but had a few grains of powder in the bottom. I asked about it and he had no idea. There is no external damage nor water marks. Only the few dark spots were unusual. The contents was unusual.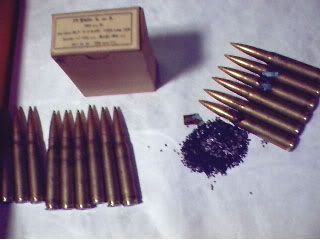 One shell had come apart. One was cracked at the neck and had a bad primer. One had a hairline crack which is barely visible. A couple other had what appeared to be exterior corrosion.
Most of the shells look fine.
The case lots are 33 , 34 , 35
WHAT HAPPENED HERE ?