I recently acquired courtesy of Falcon two boxes of 7.92mm blanks.
These have been converted from US M1909 blanks by necking, and the conversion was done on the loaded rounds as the red wad has been slightly crushed in the process.
Both boxes are from the same lot of Lake City production, but the rounds inside have a variety of US military headstamps from the 1952-57 period, suggesting quite a large number were converted.
The boxes have the M19109 designation crossed out and "For 7.92" German Mauser" hand written on the label. Note the error of using inch and not millimetre.
I would normally dismiss these as movie blanks but for the label that was attached by string. This is a government label with "FOR 7.92 MAUSER RIFLE" typed on it and stamped "APPROVED". There is also what appears to be a "B" and an "8" typed at right angles.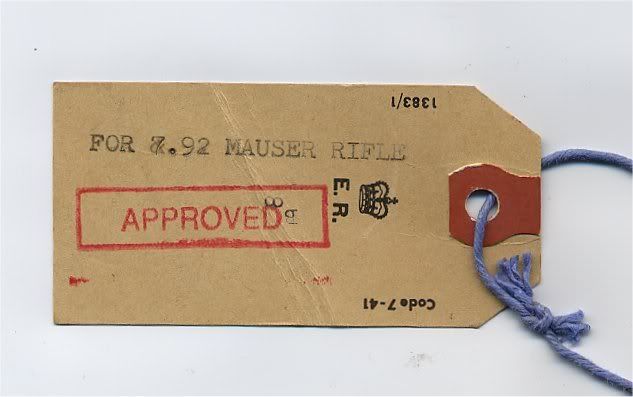 The only thing that occured to me was that they may have been used to make a military training film and that German weapons were used by the "enemy" as there were not too many Soviet weapons in captivity in the 1950s. Any thoughts anyone?
Regards
TonyE