Since I'm not having much luck with my 9mm P08 plastic Exercise question, I'll try one in 7.9.
The round below turned up in a small collection of 7.9 dummy rounds. I just recently noted that on the side of this round is the Mauser logo. As you can see below the logo is a bit incomplete on the bottom which tells me that it was stamped in after the round was made. Clearly this wouldn't have been done for an exercise round that would be used as such so it was likely an advertising or promotional piece. The lost likely source of this would be someone like Sam Cummings who ran Interarms who may have had a bunch of red plastic rounds stamped to pass out with his rifles or as promotional handouts. This is all speculation on my part.
Here is the round and a closeup of the marking: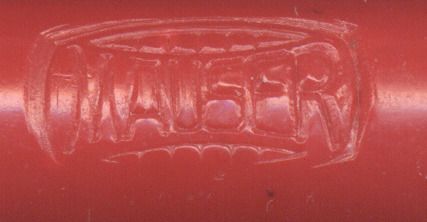 This round is strange also because of the finish on the steel head which almost looks brass (on right below) or a lacquer on the head. It is a distinctly different color from another dnb round from the same date (on left below),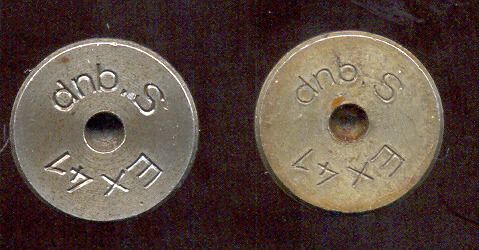 I assume the 7.9 guys out there have seen these and probably know the story. Please share it…
Do these stamps occur only on dnb 41 rounds or on assorted headstamps??
Cheers,
Lew