Folks,
I have a plain brass case, brass primer, cncs projo 7mm Mauser round.
Headstamp reads 2 | S | 99 | CH |
The S is at 12 O'CLock and the headstamp is a 4 line segmented format similar to many WWI German 7.92 rounds. See lousy picture below.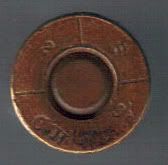 Any idea who this was made by?
Thanks,
Dave