Here's a very interesting novelty sort of re-worked cartridge which I found pictured on page 6 of the May 1986 issue (#75) of the Belgian gun & ammo magazine AMI: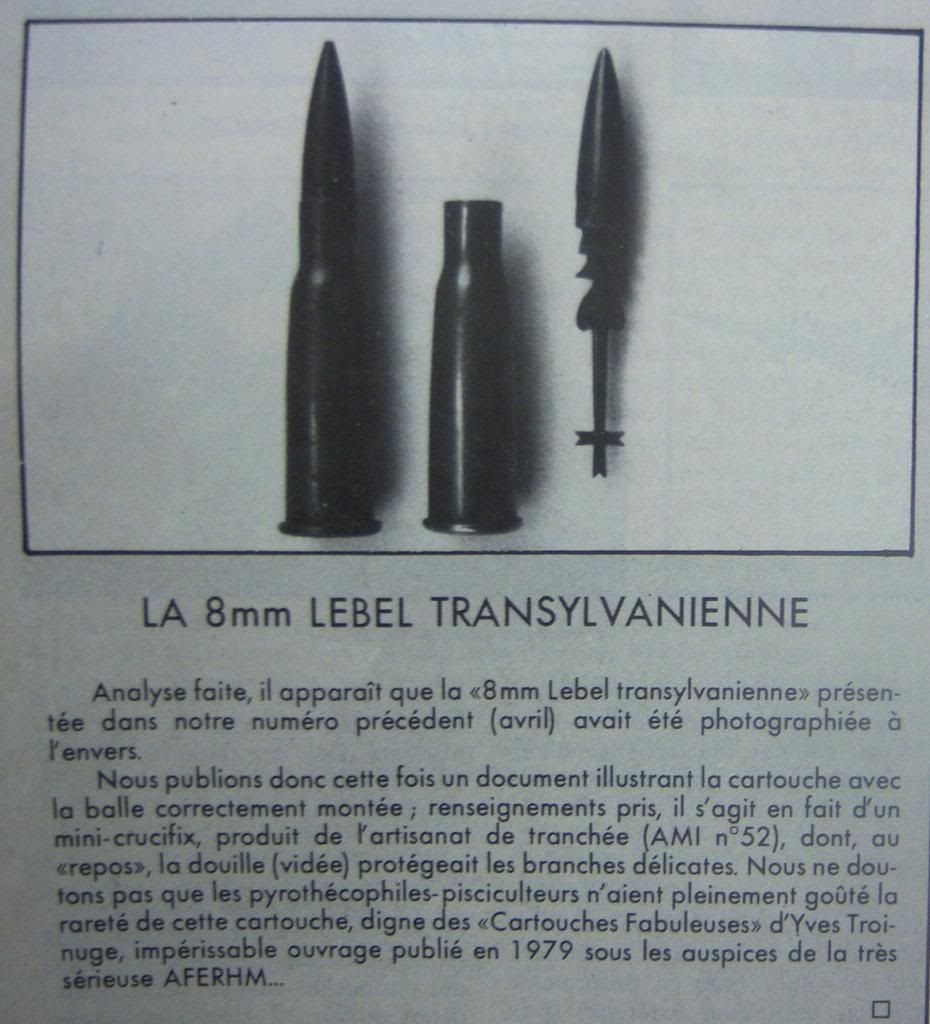 The translation of the caption is roughly this:
Analysis; it appears that the "8mm Lebel Transylvanian" presented in our previous issue (April) had been photographed in reverse. We therefore publish this document that illustrates the cartridge with the ball properly installed. Inquiry; it is actually a mini-crucifix, "trench art" (per AMI #52), which, at rest, the socket is empty to protect the delicate branches. We are confident that the farmers have pyrothecophiles-fully underestimate the rarity of this cartridge, worthy of the "Fabulous Cartouches" Yves Troinuge, indispensible book published in 1979 under the auspices of the very serious AFERHM…
The translation is somewhat lacking in a few words that I don't quite gather, but apparently in the previous issue (#74) from April they had an article on this 8mm Lebel crucifix-carved "Transylvanian" cartridge (anti-vampire?) and this is just a follow-up correction of sorts. Is this actually trench art? Did I miss something in the brief translation? It seems more like this would be a novelty cartridge souvenir sort of thing sold locally by a small-time artist? Or is the implied meaning of the term "trench-art" in this article simply referring to anything that is of WWI vintage which is reworked in a contemporary artistic fashion similar to original trench-art?