Cartridge and headstamp.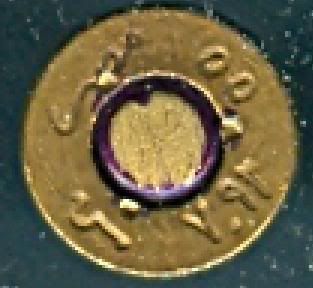 Enlarged headstamp.
I have this cartridge listed in my collection as a 8mm Mauser, Egyptian headstamp. This should translate into a 7.9x57JS, but in view of it's
having a wooden bullet, I cannot measure it correctly. Also I have no idea where I came up that it was Egyptian, I guess I thought it looked Egyptian!
Case length: 2.24 - Neck: 0.348 - Base: 0.466 - Shoulder: 0.427 ---------- "The more I measure, the worse I get!"
If anyone can assist in identifying the cartridge and translating the headstamp, I would greatly appreciate it.
Jones