During my trip to the ECRA meeting I picked up a 9mm Borchardt cartridge. This is a DWM made cartridge (hst DM * K *) first identified in White & Munhall Pistol and Revolver Cartridges published shortly after WWII. They received the cartridge from a gunsmith (or dealer) in Philadelphia in the early 1940s who identified it as a 9mm Borchardt. Geoff Sturgess makes an strong, scholarly and convincing case in his prize winning article in the IAA Journal that this is in fact the first 9mm Luger cartridge.
Pictured below are the earliest recognizable 9mm Luger cartridge (hst DM * K *) the 9mm Borchardt-Luger , and the 7.63mm Borchardt/7.63 Mauser cartridge.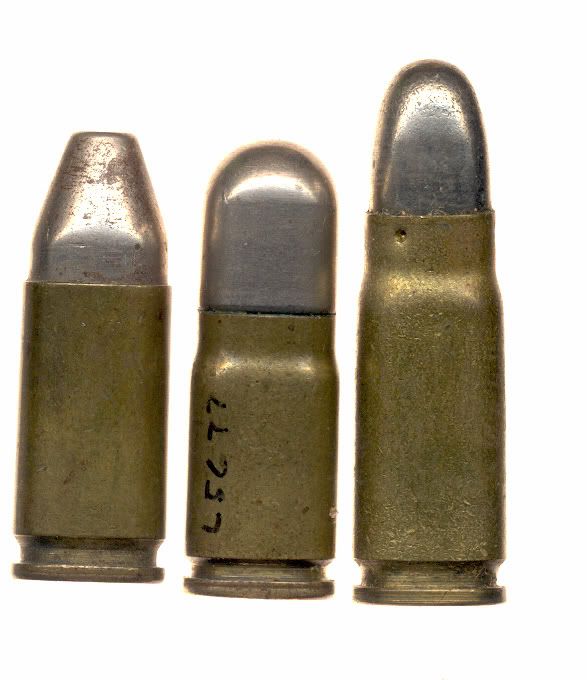 The overall length and head diameter of the 9mm Borchardt and the 9mm Luger are identical.
The first time the 9mm Luger was apparently discussed (or at least documented) was in March 1902 when Vickers (Luger agent) wrote the British Small Arms Committee advising them of the development of a 9mm Luger cartridge. This must have been the DWM 480 cartridge. A recently unearthed 1902 DWM catalog (probably a draft that was never published) and probably done in 1901, makes no mention of the 9mm 480 case and in fact the highest case number listed was the 474 or 475 as I remember, I only saw a prelim copy (It will be printed in the next 6 months or so). In this catalog the DWM 471 was called the "Borchardt-Luger". We also know that the Luger pistols in 9mm were tested in the US in 1903. Hans Tauscher offered the 9mm pistol for test in April 1903 and the three prototypes were delivered in May 1903. In April 1904 25,000 rounds of ammo were delivered for testing the 50 Powell Cartridge Counter 9mm Luger pistols. We know that the three US test pistols did not have the chamber for the shouldered case. We also know that by late 1903 or so the final DWM 480C case design was settled on for the 1904 catalog since it is the case illustrated in the 1904 DWM catalog. That leaves the specifics of the DWM 480, 480A and 480B cases unknown. It is logical to assume that the 480 was the case type offered to the British Small Arms Committee. I think that is likely the cartridge known as the 9mm Borchardt, but that still leaves us wondering what the 480A and 480B cases looked like.
It is interesting that the 9mm Luger/Parabellum cartridge was actually developed for the British/US market and was tested by the US Army well before the German military showed interest.
If anyone has an example of the 9x19mm Luger with the DM * K * headstamp, please send me the following measurements in millimeters:
Case Length
Bullet Diameter at case mouth (the ones I know of have truncated bullets. if yours has a RN bullet, please let me know
Case Diameter about 1mm back from the case mouth
Rim Diameter
Groove Diameter
Many thanks!
Cheers,
Lew