For the past few years, a firm by the name of NATMIL (owned by Knesek Guns) of Van Buren, Arkansas has been a licensed importer of guns, and has also been an ammunition manufacturer and body armor distributor. From the beginning they have had listed on their website a range of ammunition components and loaded ammo, but they have always been out of stock and never seem to have anything. Finally over the past 12 months they slowly began operating on Gunbroker, selling endless no-reserve penny listings for 1000rds of 9mm, or 1000rds of .45acp - usually just ball ammo, or a frangible bullet. NATMIL has also gone through some sort of split where Knesek has split the firearms importing from the ammo loading side, and "FEDARM" out of Fort Smith Arkansas is now the ammo manufacturer. Perhaps still owned by Knesek?
In any case, just recently on Gunbroker, the most recent proxy seller for Knesek (they seem to rotate through a few names) "Shore Tactical" of Snow Hill Maryland has been selling for them in the same manner, with 1000rd lots at no reserve, but this time listed as being loaded with a "lead free alloy bullet". No details are given on the metallurgy, and it is simply listed as being bulk-packed and loaded on once-fired reloaded brass. I dove in and bid on a lot, and ended up winning 1000rds for what is a very average price of $160, since these lots seem to range from $150 to $180 at end of auction.
I was interested in the 80gr bullet and what it was made of, and also curious about the range of brass they might be loaded on, and I have wound up totally surprised & impressed with the product. Given their odd selling practices I was expecting to find fairly cheap product with some dented cases, dented primers, different O.A.L.'s, damaged case necks, etc… Not only did I count 1007 total rds, I found only one flaw amongst all of them - a stressed case with a crease (almost cracked), so I actually ended up with 1006 PERFECT cartridges, which was shocking. I don't know what the bullet is exactly, but at 80gr, it occupies the same volume as a typical copper jacketed lead core 115gr bullet. The bullet seems cast, and has some kind of dimple on the tip. My guess is either cupro-nickel or a zinc alloy of some kind, and cutting it, it is silver throughout with no variation. An LP torch did nothing to the bullet after 60 seconds of flame. I haven't shot any yet, but when I do I will get velocity & reliability data. The propellant is relatively large flake, and looks like Alliant Unique or something similar.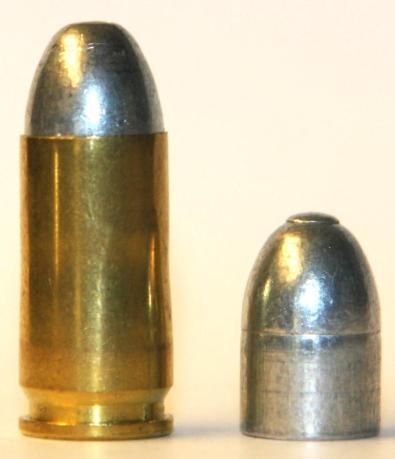 The one bad case in the lot - you can see where the bullet material is squished onto the case mouth:

Then the headstamps… If you are a burgeoning 9mm headstamp collector and a range shooter, then this is a GREAT way to get headstamps. I counted 60 unique headstamps - most of them common, but some dated military stuff, and a few oddballs not usually seen unless one is looking hard. The strangest thing I thought, was that there was only one Starline case. The vast majority of the cases were FC, WIN, Speer, or Blazer. I found two MRP (Magtech) cases, two IMI 13 NATO cases, one nickeled Hornady 9mm +P (which shouldn't be in there), one Fiocchi G.F.L. 09 case, and one Radway RG 09 case. Most everything else had at least a few of each. You have to look close for some of the differences in the FC, R-P and Speer cases. On the brass Hornady case - that is a diamond after "LUGER". I show 4 AMMOLOAD cases at the bottom since they seem to have a range of headstamp quality and letter thickness, which is probably just indicative of low quality production. 99% of the cases were standard brass as I found only around 10 nickeled cases.
A zoomed-in look at the AMMOLOAD headstamps, and the variation that they seem to display: