This topic is complex and importent enough that I decided to start a new thread. If we get some useful answers, I will write this up for the Journal!
Below are the two key postings from the previous thread.
Morten-Posted: Wed Sep 03, 2008 5:05 pm
Dear John, my friend
Cartridge no. 3 from left at the upper image, is believed to be one of the very first blanks made by Bakelittfabrikken, or Nammo Bakelittfabrikken AS, which is the correct name after it became a part of Nammo in July 2005.
Lars Ringdal's patent no. 86129, applied for June 27th, 1953 and granted July 2nd, 1955, describes a blank cartridge very similar to this one. There are, however, two known versions of this cartridge: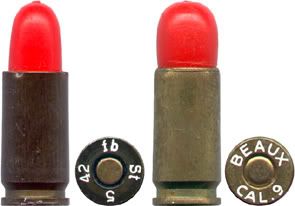 To my knowledge, the left one is only registered with German steel cases. This may be one of the reasons it has been taken for a German cartridge. There were large quantities of German ammunition in Norway after WW2, so the use of German cases is not surprising. The right cartridge, which is somewhat less scarce than the left one, is seen both with Italian brass cases and German steel cases. Both cartridges probably date to 1953-1954.
As early as May 5th, 1954, i.e. before his first patent was granted, Ringdal applied for a new patent, which was granted July 2nd, 1955. Patent no. 86131 describes a blank cartridge with a metal base and a plastic body.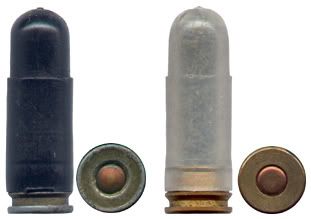 The left cartridge is believed to be the result of patent no. 86131. A box dated August 1956 is known to exist, as do some loose cartridges in red plastic. The right cartridge is quite similar to the left one, except for the colour. It is said to be a Huck product, but this is still an open question. I have a Huck box dated "1/I/56" in my collection, and it contains cartridges with brass cases and white plastic "bullets", totally different from the cartridge in question.
Well, John, this doesn't sort it out once and for all, there are still answers to be given. But I feel quite comfortable with these four cartridges in my "Norway" drawer, though the white one might be questionable.
Morten
John Moss replied[quote]Morten - on very close examination of my blanks, I am now in utter confusion. Firstly, I have the reduced diameter bullet version in steel case. Mine is in an "hrn" case. In fact, yours is the first I have seen that is not, but rather in an "fb" case. I have seven headstamps in the brass-cased one that you show, including that scarce BEAUX headstamp. It has a bullet exactly of the same orange-red color as the reduced diameter bullet. My brass-cased ones are in a mixture of Italian, Spanish and Portuguese (SPC) cases, plus an unheadstamped case and a "K DWM K 480C" case.
Now, I have a steel cased round, "kam" case, with round nose orange-red bullet, but the bullet is seated out farther, and is a slightly different shade than any of the others. I also have a bullet only of the same type, and a line around it indicates it was seated, or meant to be seated, to the same depth as the one in the "kam" case. I don't know if the bullet design is the same as the other round-nose ones, but again, the color tone is quite different. Now, all of these rounds are brass primer.
In white pointed plastic bullet with the four pre-fracture lines on it, that are supposed to be huck for sure, I have a number and the headstamps of the brass case are the same sort of assortment as the red ones, primarily Spanish and Italian, with unheadstamped as well. To me, these cases are among the least likely to have been in Norway following the war. They are, for the most part, post-war headstamps from the late 1940s or early 1950s, not stuff left over from the German occupation. Of course, they could have been purchased on the scrap market. Now, some of the "Huck" types have copper primers, but some have brass primer cups identical to those in the cases loaded with the orange-red bullets.
The all white plastic case and bullet with brass head and copper primer is on the list of Huck rounds, supposedly made in 1956, in the presentation prepared by someone in Germany. I will admit, though, that it looks more Norwegian to me than do the ones with orange-red bullets. Oddly, the orange-red bullets are not on the Huck list, which considering everything you would think they might be, even if in error, due to the almost identical mix of brass cases. Among the Uck rounds are also black pointed plastic, and a dark red plastic point bullet round. I wonder if that one is Norwegian.
I am really back to the drawing board on this. The only one I am comfortable with as being Norwegian is the steel-cased round with the bullet seated farther out, now that i look at all of them. I wish I had a dupe of the one with the orange-red bullet in brass case, as I would love to cut it open and see the entire "bullet." The plastic bullet of the type from the "kam" case obviously bottoms out on the internal base of the cartridge case (it is 16.88m/m in length)and is hollow for 15.28m/m of its length.
I hope you guys can sort this out I am confused beyond making any changes yet in how I have catalogued these. I am not saying anyone is wrong - I am just saying that now I don't know what any of them are.
I'm going to let you and Lew sort this out. If either of you has a dupe of the brass case, lighter orange-bulleted rounds, why not try looking at the bullet to see if it is the same as the one in the steel "kam" case? Look very closely at the color tones too, and if you have ones you think are Huck, compare headstamps and primer cups. I have no answers for this, only questions.
---
John Moss
[/quote]