Back in 2003 I picked up some Bird Bomb cartridges that I later discovered were made by ELD Enterprises of Prescott AZ. They were described as smoke tracers that blew up with a puff of smoke and a loud noise. I didn't fire any (not something to shoot on the indoor ranges here in Atlanta) so I can't confirm this performance, but it was essentially described as a self destroying tracer. Reportedly, in 2002 the US Coast Guard bought some to use for warning shots-don't know if that is true or not.
I have not seen these offered again since I bought them. A few months ago I found out the identity of the maker and contacted him to see if he was still making them, or any other exotic ammo. Now he only loads shotshells, and had not made or sold the Bird Bomb cartridges for 5 years or more and didn't think he had any. I told him I was interested if he found he still had some to let me know. He recently wrote me that he had found a few mixed in with some stuff from a firing demo from quite a few years back. I bought them and was pleased to discover that they were somewhat different from the ones I had gotten in 2003.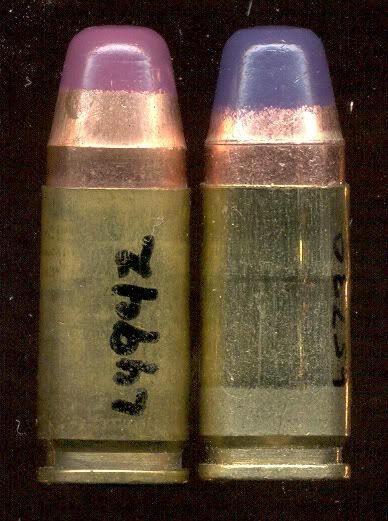 The latest Bird Bomb has a much darker purple tip in a distinctly different shade. The bullet also has a distinct step, apparently from the reforming process that was missing, or much less distinct on the earlier bullets.
There is no end to what people are producing. I will eventually find a place to shoot a couple of these and will let you know how they perform.
Cheers,
Lew