I usually give the FBI the benefit of the doubt when it comes to issues of cartridges, seeing as how they are pretty skilled when it comes to ballistics forensics, murder investigations, and anything gun & ammo as it relates to crime. This latest story though goes to show that sometimes, even in official reports, you just never know.
I just noticed today an old news post from around April 6th, 2011 that there was updated information about the murder of rapper "Biggie Smalls" (shot while in a vehicle in 1997). I was searching the term "metal piercing" on Google and I found that this report was saying how there may be a link between Biggie's murder, and a disgraced LAPD cop who was busted for a Bank heist plot. In both cases there existed some "very rare Gecko 9mm ammunition" that is "not typically found in the U.S. and which is metal piercing". This same "Gecko" (their spelling) 9mm ammo was used to shoot through Biggie's car and kill him apparently. It is admitted that there was no forensic testing to match anything, but that the cartridge types were of the same sort. One article from the UK's Daily Mail http://www.dailymail.co.uk/news/article-1374411/FBI-releases-secret-reports-hip-hops-Notorious-B-I-G-s-murder-case.html actually shows a pic of two cartridges claiming they are similar to the ones being referred to in the FBI report:

Huh!?
Somehow I doubt that those type of cartridges were used, or that they are somehow similar to any kind of Geco 9mm AP load. Interestingly, the Daily Mail writer for that story must have lifted that photo from Guy Hildebrand's site where he showed the more complete version of that photo here (scroll down): http://www.oldammo.com/september05.htm and here is the original photo that Guy had posted which was part of a discussion about the similarities between the .380 auto and the very rare "9mm nikl":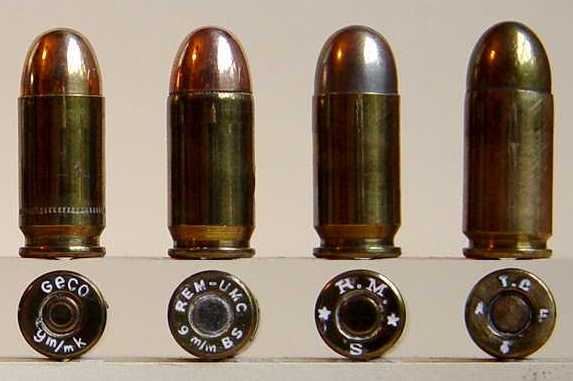 Funny that the Daily Mail edited the only cartridge with a Geco headstamp out of the picture, and more funny that these are not the correct caliber for the FBI report (should be 9x19).
So many things are wrong with all this stuff it makes my head spin, especially where official FBI documentation misspells Geco, and refers to whatever ammo they are talking about as rare "metal piercing" loads. The FBI document can be found here, and they mention the ammo on pages 3, 12, 17, 19 and 36 http://vault.fbi.gov/Christopher%20%28Biggie%20Smalls%29%20Wallace%20/christopher-biggie-smalls-wallace-part-1-of-3/view The FBI report mentions that the only 2 U.S. distributors at the time who distributed that type of ammo were in Corona CA and "Cluster" NJ. I'm not sure who they are talking about in Corona CA (Check-Mate was the Geco distributor in Oak View, CA), but in NJ, they must mean the U.S. offices of Dynamit Nobel (Geco) at: Dynamite Nobel/RWS Inc. 81 Ruckman Rd, Closter, NJ. That's another thing, they misspell Closter as "Cluster".
Now what the heck are they talking about? I assume that the ammo being referred to is probably the Geco "B.A.T." ammo (Action-1), which is not metal piercing at all, but it would sort of fit in with the time period of the 90's when some of that stuff was kicking around in the U.S. if you looked for it. And for it to be referred to as "AP" is believable since it looks different, and other people were speculating about that when it first came out due to it's copper construction. There really wasn't any other Geco 9mm ammunition in the U.S. that was in circulation much at the time that people might have mistakenly considered as being "metal piercing" was there? If it is the "B.A.T." / Action-1 ammo that they are referring to, then it is too bad because other people like media outlets and/or politicians might reference that FBI documentation and say that "such ammo is AP according to the FBI". …Roll eyes…
This would be the "gecko" stuff I assume they are referring to (showing U.S. import overlabel):

Back when this Geco ammo first came into the U.S. (1981/1982?), the distributor in Oak View, Checkmate, actually printed this ad in some gun magazines which offered a reward for anybody who shot a felon using BAT ammo:
The ad also decried any claim that BAT ammo was in any way armor piercing. So apparently either they were trying to warn against considering the ammo as such, or else they were hyping it up using reverse psychology.