I would like to share some info on the ADSID (Air Delivered Seismic Intrusion Detector).
In 1966 Secretary of Defense Robert McNamara issued guidance for the USA to dedign and build an electronic "wall" around South Vietnam to remotely track the movement of supplies. The code name was Igloo White and also called the McNamara Line. The program involved the implantation and monitoring of remote electronic sensors all along the Ho Chi Minh Trail to track vehicles and humane movement through acoustic and seismic signatures. The device was inserted by helicopter,transport plane and in high risk areas by fighter plane. Relay planes then flew over the sensors and then relayed the info back to the Infiltration Surveillance Center at Nakhon Phanom RTAFB.
The device was painted camo and from the tip the first 1/4" of the shaft was solid steel the rest of the shaft was hollow to let the device partially bury its self. The "case" was hollow to hold the electronics and the antenna. As you can see by the pics the device could be taken apart. The shaft unscrewed from the "caseneck" and the "caseneck" came apart by pushing in four tabs at the same time just above the fin slots. At a rather hard push of a button close to the base of the"case" and an upward pressure on the fins ,the fins partially folded upward.
The one I have is a practice device I think.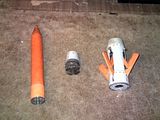 Are these collectable?
Any other info would be appreciate. Thanks frogbert.