I have definitely caught the sectioning bug and recently decided to try sectioning a group of experimental, inert PATEC discarding sabot items. In each one I tried a different sectioning style or look. After going threw many of the pictures in this forum, my own photo reference collection, pictures of others collections and the net, I was amazed at all the different ways ammunition is sectioned, some are pretty wild with multiple windows and degrees of sectioning. Some are cut exactly in half, some have a pie shaped groove removed, some have windows of all shapes and sizes cut in their cases, ect.
With the 25mm's below I tried sectioning the cases at 120 degrees, 90 degrees and 50 degrees with a weird outside the box shape :-) I have also experimented on angled windows showing the primer apparatus with small windows in the cartridge neck to show how the projectile is seated. I can not figure out which style I like the best for future attempts. I am curious what the preference is amongst the forum members. What are your favorite ways/styles you like seeing specimens sectioned, cut in half straight down the middle, case windows, ect, ect, ect…If possible it would be cool to post pictures of wild & crazy sectioned rounds even if the item being sectioned is not your primary collection or research interest. Solely on either the pure quality of the sectioning job or radicle way the Sectioner allows the internals to be viewed. For example some of the artillery fuzes I have seen sectioned are off the charts.
Here are my first attempts :-)
Jason
Group Shot with different case sectioning

I went kinda outside the box with this one :-)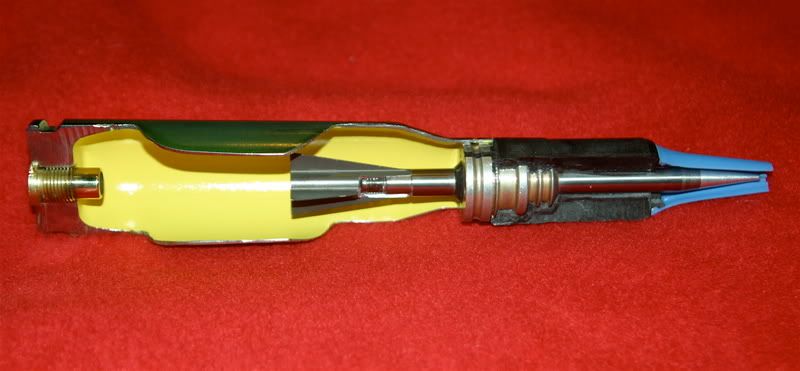 These were all from a group of experimentals. These 2 are exactly the same in every-way with a mild difference in the design of the metal sabot petals at the base of the projectile. They are shaped exactly the same except one has a groove between the 120 degree joints where the petals join each other. This groove is actually occupied by part of the resin discarding sabot petals. I am guessing these were used in a study on the most proficient way to design a sabot system that discards most efficiently from the sub-projectile dart? I really have no clue.