Yes I know that we are all men here with hair on our chests and elsewhere and this ammo collecting is serious business.
Well, the old saying is " the only difference between men and boys is the price of their toys".
This fellow has been trying to delivery this heavy shell on my desk for over 30 years. He is cast iron with wooden wheels and is on our side. That is all I know about him.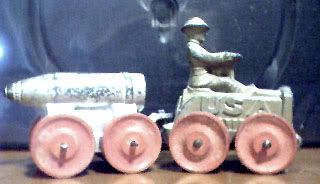 Now, I showed you mine, you show me yours . I know you have some.