Here is another question for the community. The following are three 9mm Paras with the headstamp normally found on 9mm Mauser ammunition. I have a round with this headstamp that was intercepted by Italian police as part of a shipment to the rebels in Algeria. It is a Mauser case, cut to 19mm with the bullet reseated and the powder looks like a mixture of about 3 different powders. I always view any 9x19mm cartridge with this headstamp as a probable fake. I have however seen some that look very good in some pretty well known collections.
The following are three I have kept around because they look pretty good. All have magnetic bullets, and none show any evidence of reloading or of bullets being pulled. The two with the red case mouth seal are well done and the seal has lightly colored the mouth of the cartridge case.
The cartridge with no casemouth seal shows where the base of the bullet is but no obvious buldging from seating a bullet into the thicker casewall lower in a 9mm Mauser case. I obtained it out of a collection in England in the 1970s. The CN bullet load with red cms was obtained in the mid-1980s in Europe and looks very nice. The round with the GM bullet was obtained from a collection in Europe in the early 1990. What to you think???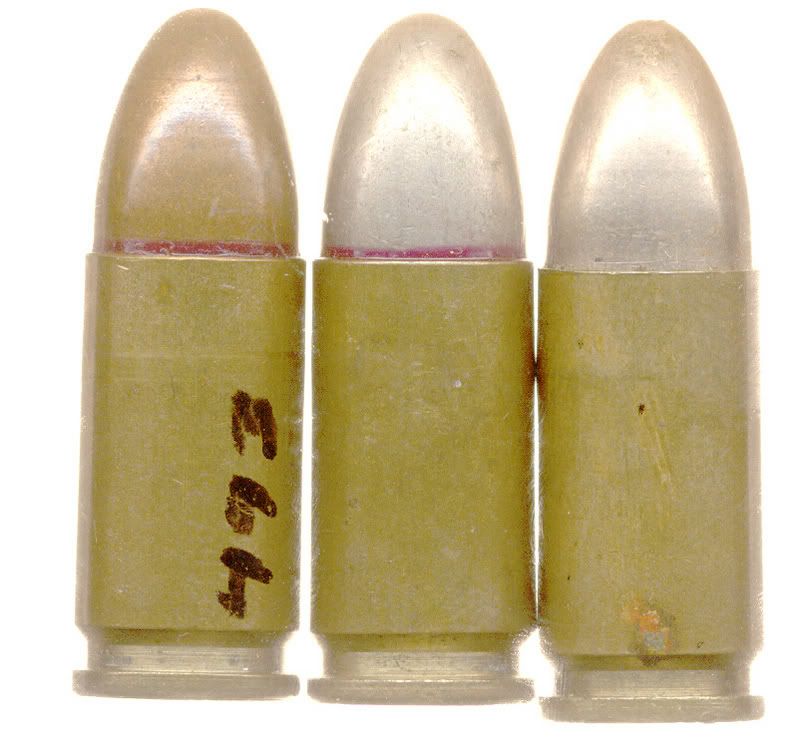 Oh! One other bit of information, the weight of the two loads with CN color bullets is about 194 & 192 gr indicating a 124 gr bullet. The GM bulled load weighs 165 gr indicating it is loaded with a steel core mE bullet.
Cheers,
Lew