ANOTHER WEAPON FOR WHICH PHOTOS OF ORIGINAL AMMUNITION IS HARD TO FIND.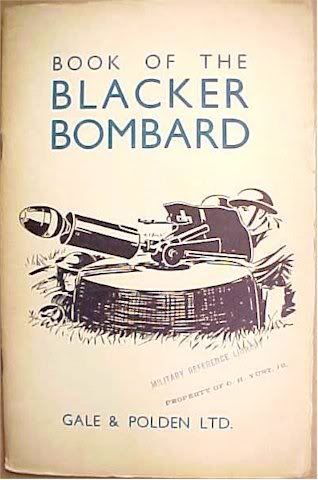 CSAEOD,
Was this something like a mounted PIAT?
Dave
[quote="DaveE."]CSAEOD,
Was this something like a mounted PIAT?
Dave[/quote]
CERTAINLY HAD A LOT IN COMMON WITH THE PIAT. FEWER MADE AND VERY LITLE OF THE AMMO SURVIVED.
CSAOD
I don't know whether the Blacker Bombard ever saw action with the British army during WW2, but it was quite widely issued to the Home Guard who fortunately were never called upon to use it in anger. My father, a WW1 veteran, was in the HG and for a while he was attached to a squad using one of these "Spigot Mortars", as they called them. I remember as a boy watching them being fired in practice, and the Anti Tank projectiles seemed to have a maximum range of 300-400 yds, and the HE ones considerably further.
One of the problems with the HE bombs was that because of their low trajectory, on soft ground they often tended to skid to a halt without exploding. Drill HE bombs had no fuse and were filled with concrete, while the drill AT bombs were filled with fine sand. If my memory serves me (but it was a long time ago now!) both the drill rounds were marked with a yellow band.
But the Blacker Bombard was a cumbersome weapon, and it is no surprise that the much more mobile PIAT (Projector Infantry Anti Tank), though not so powerful, soon replaced it in Army service.
John
The much maligned PIAT was the only man portable weapon in Allied hands early in the war which would take out armor. It is difficult to handle and often dangerous to fire BUT a real GODSEND when a Nazi or Japanese tank is bearing down on your squad. It is a beautifull monster which saved many Allied lives.
The 2.36" "BAZOOKA" was not so widely available AND left the gunner as visible to enemy troops as if he was wearing a flashing neon sign.
The PIAT was useable by one real man with guts and muscles.
The BAZOOKA was difficult for one man to use.