I have recently bought a couple of books on the MP40, and both mention that the thread at the muzzle was to accept a blank adaptor. The blank adaptor is illustrated in these and other books and apparently in Armorers Manual for the MP38 and MP40.

As has been pointed out previously, this looks like a blank adaptor intended for an extended case blank with a crimp in the shape of a bullet rather than a blank with a paper or wood bullet.
Below are the German blanks I know of from the period 1926 through 1945.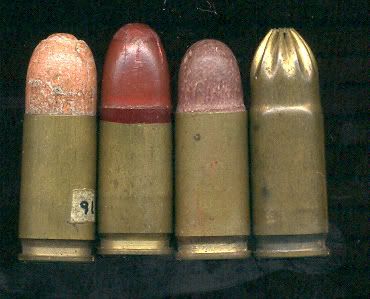 Starting with the top row, left to right:
Blue wood bullet Polte known from 26 and 27. There must have been some production since a Polte board is known for this load an boxes are known, though quite rare.
The pointed stule red paper bullet from Polte from 1929
The blunt style paper bullet from 1929 from Polte
A wood bullet in an emp Xf1 1 41 CWS case. This apparently turned up in Denmark with some very old ammunition that had been stuck away. Reportedly the police recovered it along with a torn box and a few other rounds. The fate of the box and other rounds is unknown
Bottom row:
Very probably RWS with a paper bullet
Geco with a paper bullet filled with iron powder to give it weight to function a weapon
A wood bullet with a shape that recalls the 7.92x57mm red wood bullet
A crimped, extended case blank by Geco.
There is one other blank that is not in my collection with a wooden bullet and headstamped P St 1 39 and a CWS case.


There is one other German blank from this period with a mercury filled wooden bullet which clearly was not designed for the MP40.
Most of these blanks long preceed the MP38 and all except #8 have wood or paper bullets and seem poor choices for the MP38 blank adapter.
Clearly some blank existed for use with this adapter. The development and testing of the adapter required a blank cartridge. Since the blank MP38 and MP40 were both military developments then the blank adapter must have also been a military development and it seems reasonable that the blank would also have been a military development.
Has anyone got any additional information???
Cheers,
Lew
PS: My web site has photos of some variations of the Polte paper bullets and additional blank photos.