The blue Winchester box like that below were loaded by both Winchester New Haven CT and by Western in Alton IL. My Western loaded blue boxes were both empty when I got them.
Does anyone have a Blue box loaded by Western (it will have an "A" before the load date code stamped inside the end flap with codes like "A41 22" or "A91 22")?? If you have this type of 9mm Luger box loaded by Western, please post an image of the headstamp.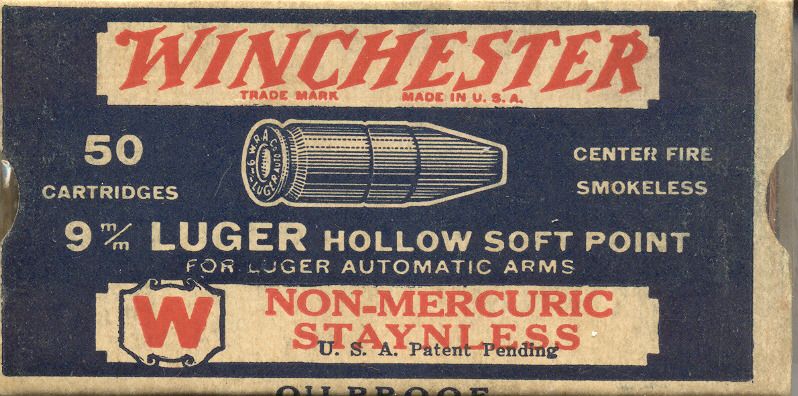 These blue boxes were used for 9mm Luger as early as 1930, and were replaced by the Blue and Yellow box for the truncated FMJ load no later than 1936. The Blue boxes for the Truncated Hollow Point loads continued to be used as late as 1941. I have Blue boxes with HP loads dated 1936 and 1940. I have also documented one dated June 1941. The 1940 & 1941 boxes have the WRA 9M-M headstamp typical of WWII military contract ammunition. The earlier rounds are all headstamped WRACo 9M/M LUGER.
John M, I believe you also have one of these boxes from November 1941 (code "111 17"). Can you confirm the headstamp is WRA 9M-M and the bullet is a Truncated HP???
Any help on these blue 9mm boxes would be appreciated. If you have one, please let me know the date code.
Finally, there are Winchester 9mm Luger truncated GM color bullet loads, both HP & FMJ, with post-WWII cases headstamped "WRA 9M/M LUGER". Does anyone have the box for either of these cartridges???
Cheers,
Lew