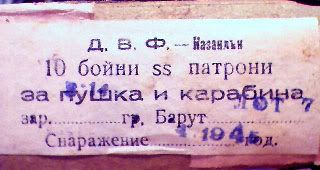 This is Bulgarian 8x56R Steyr ammunition put up in rifle clips and loaded after Bulgaria left the Axis and declared war on Germany. It was made on German machinery and note the German designation "SS" on the label . Loading date is 1945.
The Bulgars had many Steyr rifles which were left over from WW1 contracts and some later contracts.
Photos of the Bulgarian soldiers with these rifles are very rare.
Does anyone know of any WW2 era photos of Bulgar soldiers with the Stery rifles and/or ammo?