Federal T762TNB1 = 7.62 x 51mm Ball, Rifle, Barrier MK 319 MOD 0; 130 grain OTM (or at least it is advertised that way). This is a non-NATO cartridge.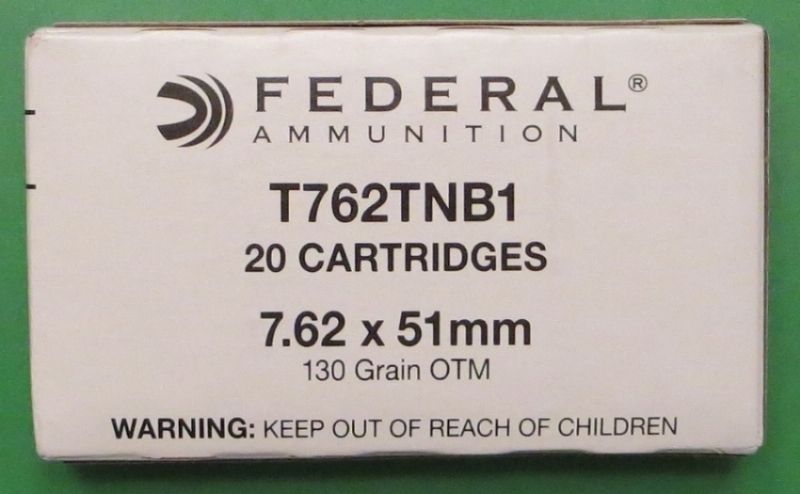 This box contained rounds headstamped " F C 1 2 " and " F C 1 3 " , with the FC at the 12:00 position and the two digit date at the 6:00 position.
Below is an example of a cartridge from the box, the bullet is seated in the cartridge so that the bottom ring on the 130 gr OTM bullet is exposed. Overall cartridge length is 71mm which approximates the length of a 7.62 x 51mm NATO ball cartridge.

Most images of this round found on the web seem to be based on the image provided by ATK (Federal) circa 2009, shown below, which show the bullet seated to the top ring of the 130 gr OTM bullet.
So my questions are:
Is the cartridge from the box, pictured above, correct for bullet seating depth?
Is the cartridge shown in the photo below actually a "stock" photo of a standard 7.62 x 51mm ball round?
If the cartridge below actually is the MK 319 MOD 0 cartridge why the difference in the bullet seating depth between the cartridge shown above and the one pictured below?
The description of the round in the picture bellow uses the term "Carbine" while later descriptions of the round use the term "Rifle" is there a reason for a change in descriptive terminology?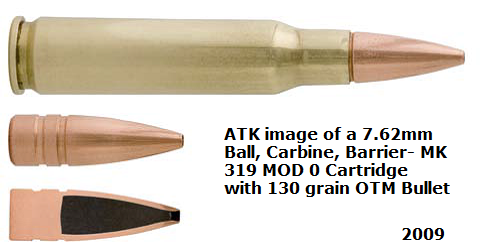 Thanks in advance for any feedback.
Brian