While at SLICS last week I picked up the complete IAA journal CD from Gary Muckel which has all journals up until 2005. While pouring over the 2000 to 2005 journals (which were previously unavailable on CD) I found a piece written by Jean-Francois Chavalley on an experimental 9mm loading that was possibly of Fiocchi origin, or loaded by Fiocchi anyway. Its 99gr projectile consisted of an aluminum disc with a brass pin screwed into it - and this pin held a spring in place against the disc. There were sections of a lead core around this and the bullet was jacketed if I gather the description correctly? Does anyone know what became of this? Here is the photo from IAA journal #440 - Nov/Dec 2004: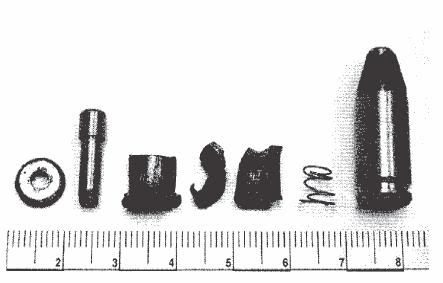 and a box label from a 50rd plain-white box of this ammo:
I'll email Jean-Francois in the meantime, but I wondered if anyone here had seen these yet, other than in the journal? This would be a great one for Paul to section!