Ruzica Church: Where Chandeliers are made of Bullet Shells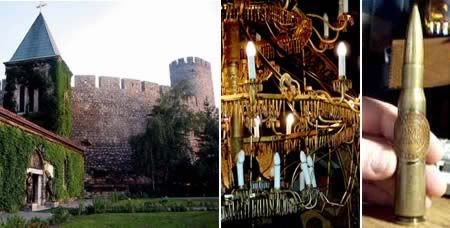 Located over the Kalemegdan Fortress in Belgrade, Serbia, the Ruzica Church is a small chapel decorated with… with trench art!
Its chandeliers are entirely made of spent bullet casing, swords, and cannon parts.
The space the church now occupies was used by the Turks as gunpowder storage for over 100 years and it had to be largely rebuilt in 1920 after WWI. Though damaged by bombings there was an upshot to the terrible carnage of The Great War. While fighting alongside England and the US, Serbian soldiers on the Thessaloniki front took the time to put together these amazing chandeliers. It is one of the world's finest examples of trench art.