For most colorfull 20mm this T2 MADSEN experimental tracer has to be high up on the list. Black/red/yellow/red/brown/black/green/black. KYNOCH manufacture.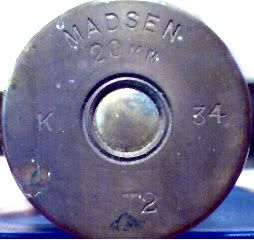 Welcome back, bring more stuff like this!!!
Thank you BUT I can hear the grinding of teeth from as far away as England already.
I hope others will show their colorfull items as well.
I like to post items which one is not likely to see elsewhere.
INCREDIBLE! That is a beauty! Guessing off the charts rare.
I know that Jason has plenty of colorfull stuff. Some of it is ALIVE !
Yeah, they don't do spots on ammo too often. :)