I was recently going through my Egyptian 9mmP boxes and began wondering why the various color codes in the stripes across the box labels. From the top they are Gray, Pink, Purple and Red. There is no apparent meaning that I can see. All appear to be ordinary ball loadings. They may have just varied over time but that isn't clear from the limited samples I have.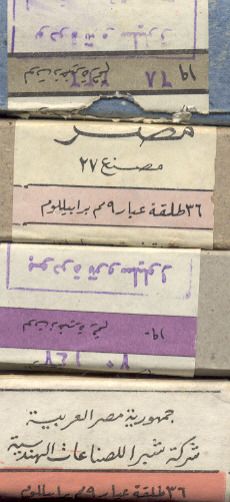 Would appreciate any ideas or information on these labels.
The boxes themselves vary from gray to brown to blue to pink to greenish-blue. Again no apparent meaning and I assume it is simply the color of cardboard used, perhaps the lowest cost available at the time. Still it looks like the color stripes are chosen for some reason.
Do these stripes mean anything on other calibers???
Cheers,
Lew