No pictures from the ECRA Show???
OK John, I'll post the photo (below) I sent you yesterday and you can provide the details and explanations!
Great meeting as it always is. Lots of tables and lots of people. The big bore guys would go crazy. I suspect about 20% of the tables were full of escapees from the scrap metal furnaces! Sorry guys, that just slipped out…
When I checked in for my flight to the US about 8AM on Sunday, the two police who came to check my ammo took one look at the special permit we get for Holland and said "How many of you guys are there. We have been looking at these all morning!" They didn't even want to look at the ammo, they had already looked at too much ammo already.
Seriously, the Dutch, Harry, Ronald and John who are regulars at SLICS did most of the organization as I understand it and did a wonderful job. There may have been others who played a significant part, so someone please correct me and give credit where it is due.
The fact is that the ECRA meetings are always great. They are always different, and the attendees vary depending on location. In the recent past they have been held in central Holland; at a lovely little town on a beautiful lake in Switzerland (where it will be held in 2014) and in Northern Germany at a lovely little town near Hamlin. I think the shows in the south attracts more Italians, Spanish and Austrians, The Dutch meeting attracts more Dutch (of course) but also more from that region including more British. The German meeting attracts more people from the Czech Republic, more Slovaks and more people Germans of course. Each has it's own flavor and all are "Must Attend" as far as I am concerned. It is nice that more North Americans are attending these meetings than I have seen in many years. I think they will also give you a great report in the ECRA meetings. Think about attending next year.
Cheers,
Lew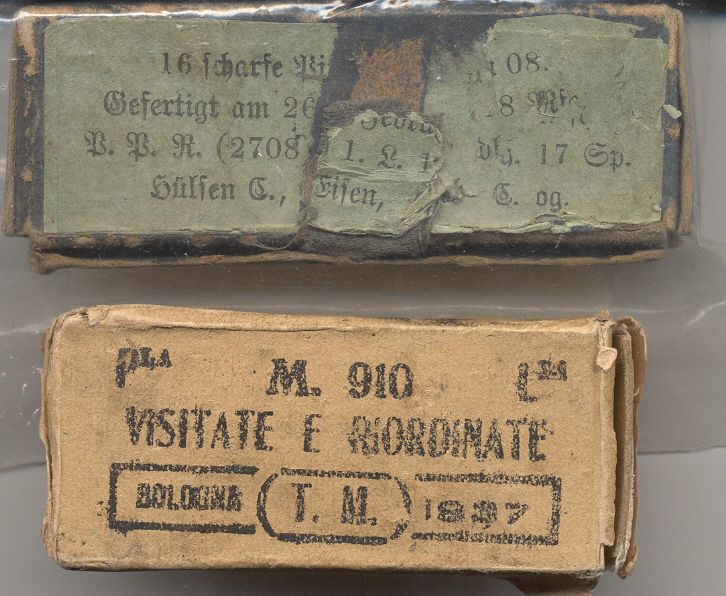 Lew,
what's the headstamp on those 9 mm Glisenti? Reding the label I suspect they have been made before 1937 , then checked and repacked
Pivi, You are of course correct. The headstamp is "B.P B-18". I have never seen a mention of a Glisenti repack before.
Cheers,
Lew
Unfortunately I was too busy with extending my collection of kidney stones, so I had to pass this time.
Better luck next time, good to see you guys enjoyed your visit!
with a number of registration of total 499 people from 22 countries and almost 400 meter off tables it was a great show.

Paul Smith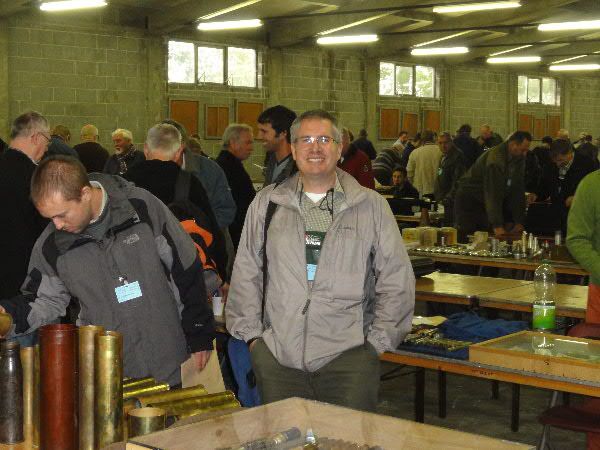 Dimitri Goulas and Bob Ruebal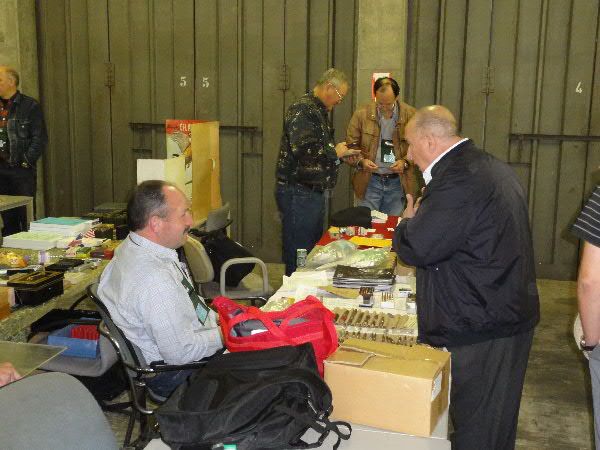 Gary Muckel and Chris Punnett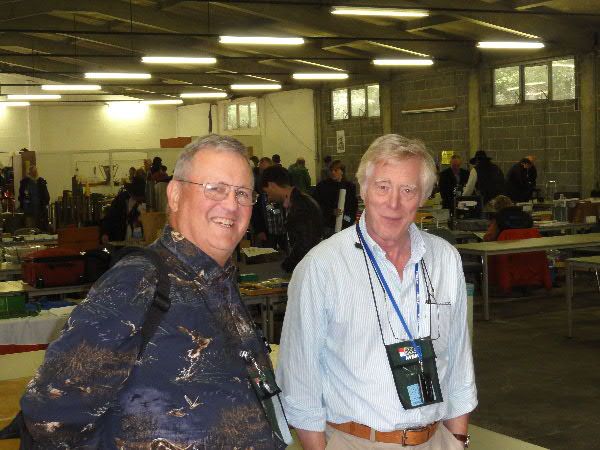 Robert Hawkinson and his NEW BOOK BIG BORE ammunition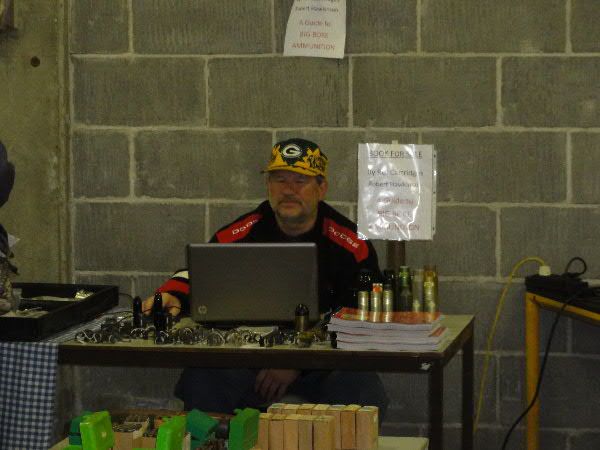 And the last one Gary Muckel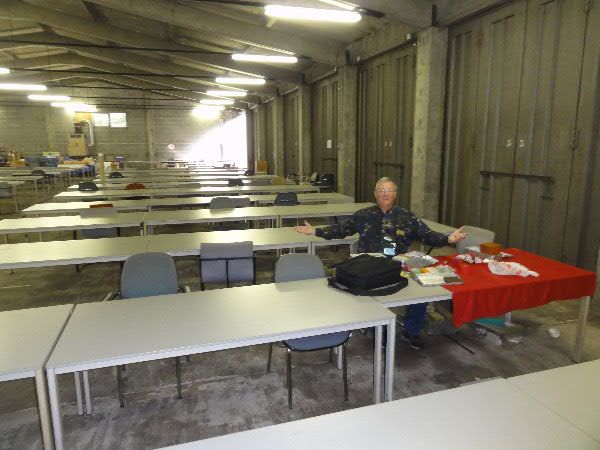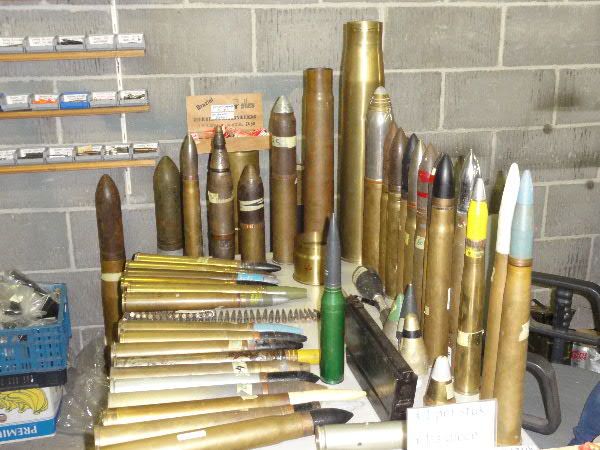 Thanks guys. The two boxes that Lew shows are wonderful items. The repack of 1918 Glisenti ammunition in 1937 is a scarce box, but totoally logical to me. With their incursion into Ethiopia, and Hitler's saber-rattling, it didn't take a military genius to figure out that war was imminent, and it was best to get the ducks into a row. By that, I mean to sort out all the still-serviceable leftovers from the "Great European War 1914-1918, and get it ready for reissue. The box label is pretty easy to ready even if you have no Italian. It simply says the ammunition is for the 1910 Glisenti Pistol and has been examined and repackaged at Bologna Arsensal in 1937.
The German label is a prize. It is from Munitionsfabrik Cassel. Please look about center of the bottom line, in the information for the cartridge case, and you will see the word "Eisen" which indicates this is steel-cased ammunition which indeed, the one remianing specimen Lew got was steel-cased. This is the first picture I recall ever seeing of a box label for WWII German steel-case 9 mm 08 ammunition. A real treasure and perhaps THE holy grail of all German 9 mm boxes.
Thanks for the pictures of the meeting itself. The show looks great, and of course, lots of familiar faces. Sounds like it was a wonderful time for all who could attend, and that is great! Never lose that sense of camaraderie you guys!!!
I only took 2 photo's but I had a great show. Found a lot of new rounds for the collection.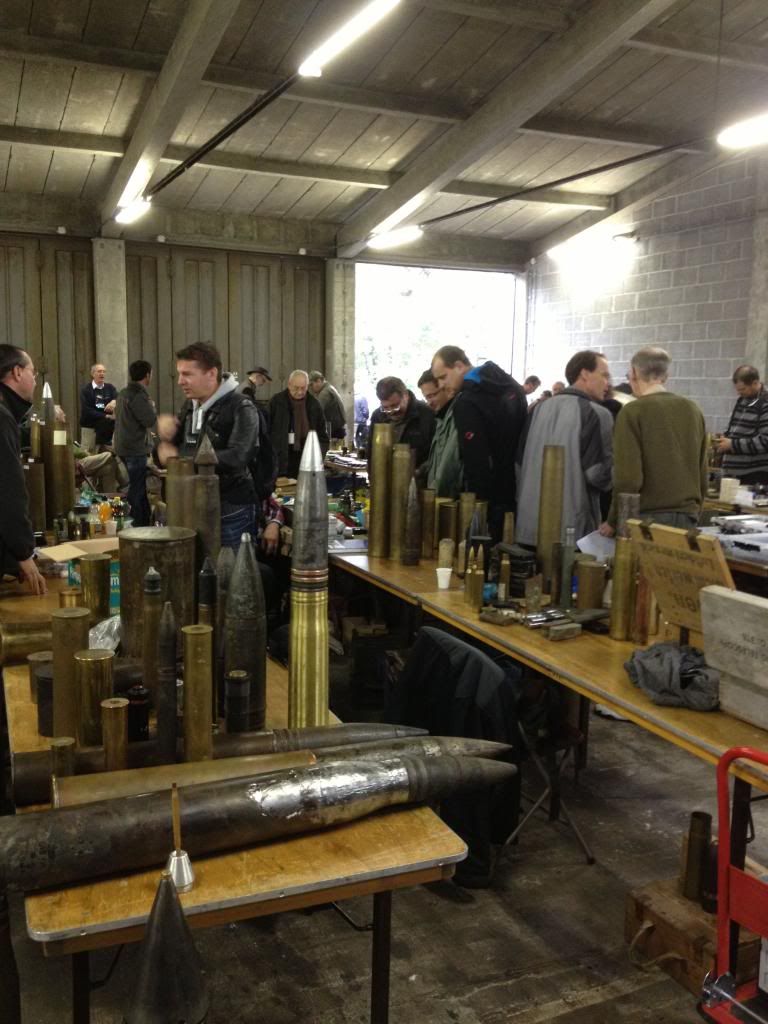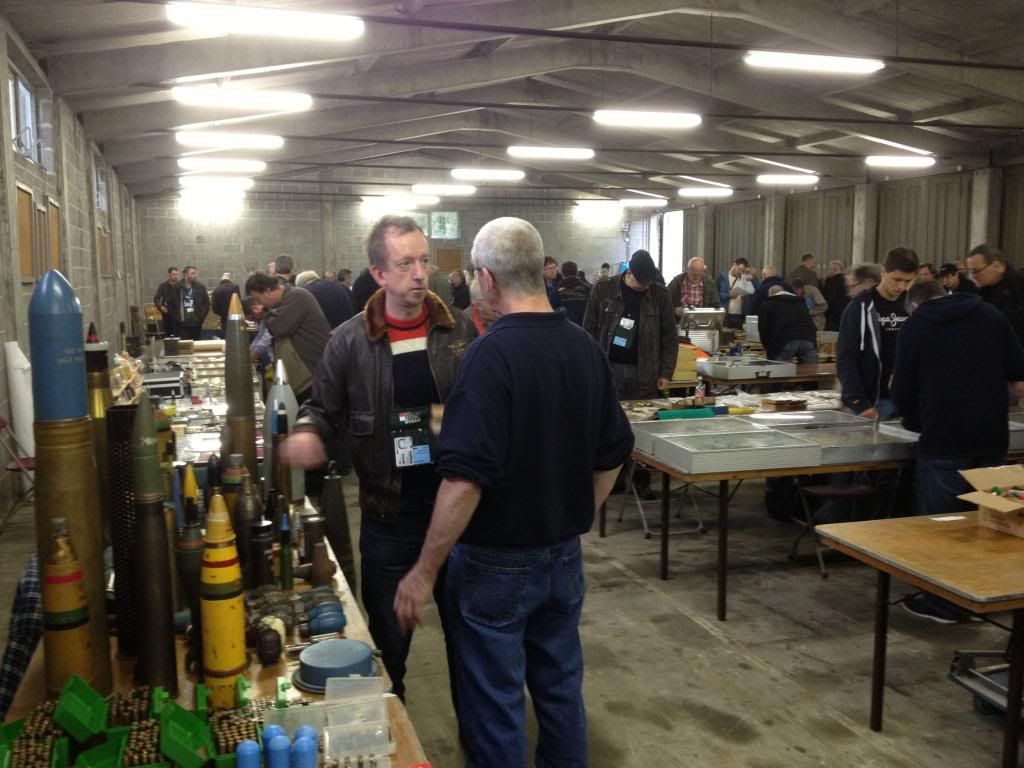 GREAT photos of an awesome show! Thanks so much for posting. Lots of awesome big bore on the tables :-) A friend of mine went and showed me a picture of some awesome MECAR 90MM APFSDS rounds that were there. Very cool!
Jason
I'm in one of those photos but you have to look carefully… ;-)
And those who weren't there may not realise that there were two large halls full of tables.
gravelbelly
My two pictures were taken from the same place standing with my back to the wall. Just to give an impression how big one hall is.