I have been thinking about writing a short IAA Journal article on the evolutionary development stages of the US 120MM M865 TPCSDS-T (Target Practice Cone Stabilized Discarding Sabot Tracer) projectile and figured I would start a forum thread first to possibly gain more information and insight. I am hoping to learn more information on the US/German relationship on its development as well as anything else IAA members may be able to contribute.
When the US Military switched from the 105MM M1 Abrams Tank to the 120MM M1A1 Abrams Tank they had to hustle to create quality 120MM ammunition with CCC "Combustible Consumable" cases. At the time, 120MM CCC tank ammunition was at its infancy and the military fast tracked the development of the M866 TPFSDS-T (Target Practice Fin Stabilized Discarding Sabot Tracer) and the XM827 tactical APFSDS-T (Armor Piercing Fin Stabilized Discarding Sabot Tracer) rounds. Both the M866 and XM827 were developed solely as interim rounds while development of the M865 TPCSDS-T was being done.
My Thinking On The Order Of Development (Left To Right - Oldest to Newest)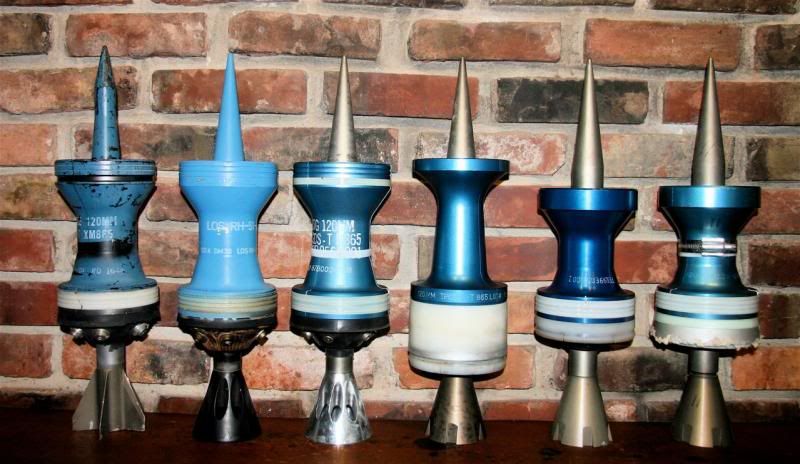 Not Sure Of Date
GERMAN DM38 TPCSDS-T
Circa 1982
M866 TPFSDS-T Projectile Next To The XM827 APFSDS-T
"Note The Unusual Shoulder Shape Of The Sub-Projectile Darts"
Both Projectiles Fit OVER The CCC Case
Both Projectiles Incorporate The Same "Long" Sabot" Design As The German DM38 TPCSDS-T

M866 Projectile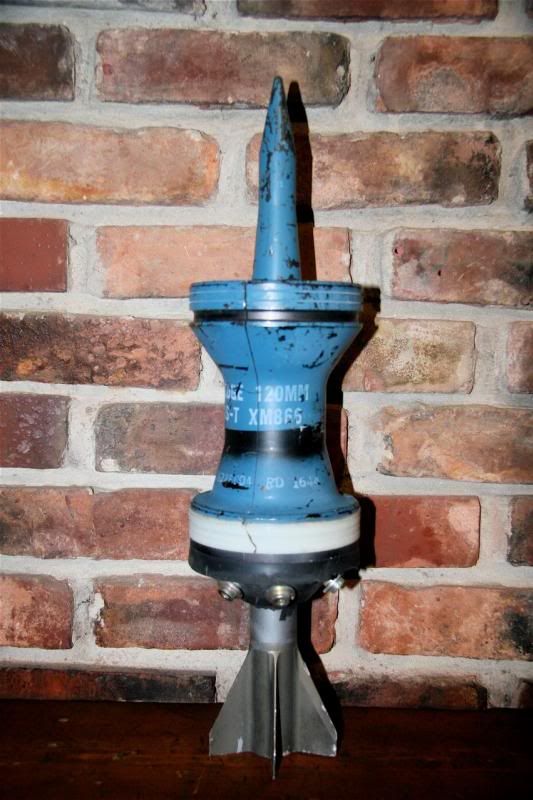 Cira - 1987
US M865 TPCSDS-T
Cira - 1989
US M865 TPCSDS-T
Snaps "INTO" the CCC Case
Fluted Cone Stabilizer
To my knowledge, this projectile design was experimental and never adapted. It has the longest, wasp waist, sabot of any M865 that I have seen. This fits in the development timeline between the issued "long" sabot and the next adapted M865 with a short compressed sabot.

Cira - 1999
US M865 TPCSDS-T
Cira - 2002
US M865 TPCSDS-T
Short Sabot
Light Blue Sabot
Snaps "INTO" The CCC Case
Fluted Cone Stabilizer
To my knowledge, this is the final and currently developed variant of the M865 TPCSDS-T round? I was told by a retired tank ammunition tester that the color of the sabot petals and its change from the 1999 dark blue was an important design feature. He told me that the earlier dark blue somehow caused barrel wear issues. I am going to try contacting him for a more detailed explanation.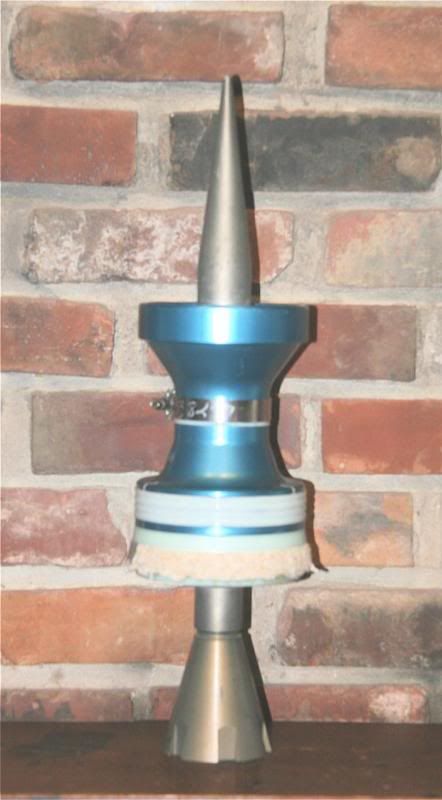 Side By Side Comparison Between Cone Stabilizers (Ported & Fluted)

Example Showing How The Older M865's Fit "OVER" The CCC Cases.