Here are two more "funnies" from Dad's collection: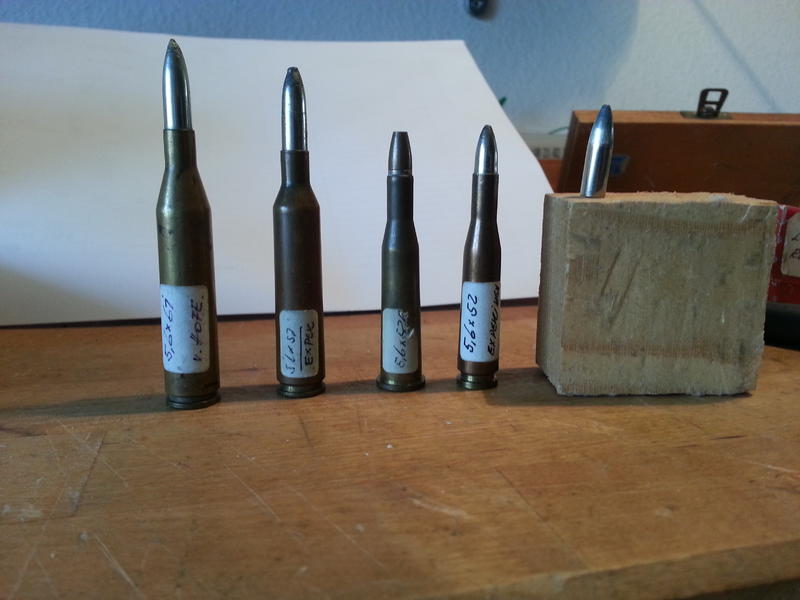 from left to right:
5,6x61 vH SE, headstamp: vom Hofe 5.6mm SUP.EXPR. (this is just for comparison, but stands a bit in the front, so it may appear too big)
5,6x57 but with headstamp: RWS 6,5x57, and with a .228 bullet, like the 5,6x61 vH SE! I measure 5.77 mm for both.
The standard 5,6x57 has a .224 bullet and the typical thick case mouth.
Dad noted "EXPER."
5,6x52R, headstamp: RWS 5,6x52R (or .22 Savage, for comparison)
"5,6x52 rimless", headstamp: LDWML 5,6x52R (only partly visible, the outer part of the hs is milled off)
Labelled "EXPERIMENT"
I can measure bullet diameter of 5,71 mm which is neither .224 or .228.
But I think I am still measuring the ogive part, the bullet might be a bit thicker towards the bottom.
For comparison, a 4.6 gram / 70 grain RWS .228 bullet for the 5.6x52R, made in the 1970s
fuhrmann