DOES ANYONE KNOW HOW THIS GUN IS BEING FED AND WHAT THE AIRCRAFT IS ?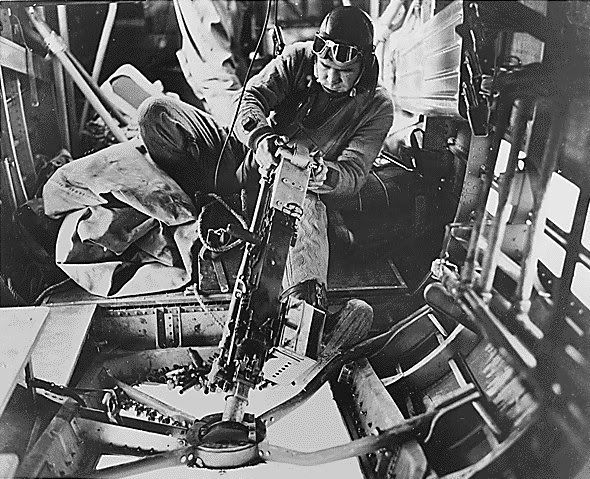 The obvious answer would be that the gun is fed from the small box mounted on the left side. I'd guess that it only holds 30-40 rounds at most. Hardly worth the effort it would seem. I've seen this type of ammo box somewhere else, just can't remember where… The bail type handle appears to be for removing the box for exchange or reloading. As for the aircraft, judging from the narrowness of the fuselage, it's probably an A-20 or somthing similar. Note the other crewman standing just behind the gunner. Small airplane!
Sorry for the SWAG…
AKMS
LOOKS LIKE WINDOWS ON THE BOTTOM AND THE SIDE. HAVE YOU SEEN AN A-20 LIKE THAT.
I believe that to be a Heinkel of some type. They used that type of mounting system.
Perhaps the German Rheinmetall-Borsig MG 131? Their heavy duty gun, 13mm (.51 in), belt fed, disintegrating link 100 round. You can see spent cases and links on the window-floor. The box is certainly the feed system.
I would go to some of the Luftwaffe sights, such as feldgrau.net, and ask about.
I HAVE HUNDREDS OF PHOTOS OF GERMAN TURRETS AND GUN MOUNTS BUT HAVE NOT BEEN ABLE TO PLACE THIS YET. GERMANY HAD MORE TURRET AND MOUNT DESIGNS THAN MOST OTHER COUNTRIES COMBINED IN WW2.
I've done some looking and I'm certain that it is not the MG 131. Looks more like a Browning than a German gun.
Agree that it looks like a Browning .50 cal, mounted in some sort of tray type mechanism connected to the spherical part that penetrates the skin of the aircraft.
Leather helmet and goggles look pre-WW2 to me.
Probably U.S. with the .50 in that period.
Probably dates prior to development of the ball turret to provide some sort of defense against attacks from below.
Perhaps one of the early large bombers prior to the B-17, or perhaps one of the maritime patrol types something like the Lockheed PV-1 types?
Tony Williams might be able to figure it out.
The image is form the US National Archives and is titled with:
U.S. Air Force gunner William Watts fires a machine gun at German fighter planes in 1942.
EOD's information supports my theory that this picture is of an A-20. From the research I have done on the web today, of all the British and US aircraft used during WWII, only the A-20 is listed as having a single, ventrally mounted, flexible .50 Browning. The "windows" on the side might be a reflection of sunlight through glass above or something else? I did find one picture of an A-20 ventral gunner's position. It is open (no glass) with a flex mounted .30 Browning (earlier/British possibly) but of the same general size, shape and angles. There were many, many "blocks" or variations of the A-20 through the war with many variations of armaments and improvements. This is probably a later, improved, enclosed mount with a larger gun. If this picture is not of an A-20 ventral .50 mount, I'd sure like to know what it is!
AKMS
AKMS, after looking closely that to the right appears to me to be real windows, look at that "window cross" is has it's own shadow (pointing almost to the viewer's direction).
I assume this question could be answered quick in an aircraft forum.
You may be able to discern the side windows, aft of the wing, above the ventral gun position. This is an A20, by the way. In the original posting pic, note the legs behind the gunner, I'm guessing he might be the dorsal turret gunner. All that to say, my money's on the A20.

THERE WERE MANY VARIATIONS OF THE A-20 BOSTON/HAVOC . THE DETAILS OF MOST DAY THEY HAD A .30 BELLY GUN. MANY OF THESE HAD OVAL SIDE WINDOWS. I HAVE NOT SEEN ONE YET WITH WINDOWS LIKE THOSE IN THIS PHOTO. THAT AMMO BOX WOULD NOT HOLD MANY .50s MAYBE IT IS A .30.
Not claiming expertise here, but that is an M2 .50 cal. Probably AN/M2. The M1919 .30 cal. is a much smaller gun. The loose, spent hulls in the
viewing window are more likely .50 vs .30.
Enlarged, the photo seems to show .50 cal size empties rolling on the deck/window and the top cover length and size of the charging handle seem to all point to .50.
Of course, this is likely a staged photo (perhaps even done on the ground) and they may have just dumped a handful of .50 brass to make it look good even if it is a .30 BMG.
One excellent history of the A-20s notes in the "Armament" section that a .50 (12.7mm) was used in the ventral position but that contradicts the descriptions of the various models where they seem to consistently mention use of .30 (7.62mm) in the ventral position. The final section dealing with "weapons suite" states "1 x 7.62mm OR 12.7mm machine gun in flexible ventral position."
With a production run of 7,385 aircraft there were sure to be many minor variations, plus who knows what modifications were done in the field to improve visibility for the gunner.
As for the feed device, CSAEOD is right, it sure looks small (maybe 10-20 rounds?). Perhaps it is not the complete feed device, but is only the attaching point for a feed chute fed from above that they moved out of the way for the photo?
I always enjoy CSAEOD's thought provoking posts and incredible images.
Whatever the plane or gun, that gunner is a gonner if the plane is shot down. A vest but no parachute. Gear and ropes hanging everywhere. A canvas duffel bag or maybe a life raft loose on the deck. Of course, he'd probably be killed by flying debris before he had a chance to escape anyway.
Ray
I agree with John, If its not staged, then its a low flying maritime patrol as the gunner does not appear to be wearing gloves.
Steve
Could be the lower gondola attached on a Focke-wolf FW 200, JU 88 or an US Advenger which had a crew of 3. … that would explain the cramped space…
WHATEVER IS GOING ON HERE ; I WOULD LIKE TO HAVE A LOT MORE AMMO GOING INTO AIR COMBAT WHERE 99.9% OF THE SHOTS MISS. THAT BOX DOESN'T LOOK BIG ENOUGH TO HOLD MUCH MORE THAN A STANDARD 10 ROUND BOX OF .50. A GUNNER WOULD HAVE TO BE REALLY LUCKY TO HIT A FLYBY WITH 10 OR EVEN 50 ROUNDS. THOSE ELABORATE FEED CHUTES WERE DESIGNED TO KEEP THESE GUNS FIRING HUNDREDS OF ROUNDS.
"I always enjoy CSAEOD's thought provoking posts and incredible images".
THANK YOU. I HAVE TO REPEAT SOMETHING BILL WOODIN TOLD ME MANY YEARS AGO WHEN I CALLED HIM AN EXPERT.
HE SAID " I WOULD LIKE TO MEET AN EXPERT , I HAVE ABOUT A MILLION QUESTIONS TO ASK ". HE DOES.
WELL , I HAVE AT LEAST DOUBLE THAT AND IN OUR FIELD OF INTEREST THERE IS NO END TO WHAT CAN BE KNOWN. WE WILL ALL RUN OUT OF TIME BEFORE WE RUN OUT OF QUESTIONS.
ENJOY !
HAS ANYONE SEEN TONY WILLIAMS ?