I just turned this up at the bottom of a box. Whatever it is, it has escaped its little envelope with its identity on it. Can anyone tell me what it is?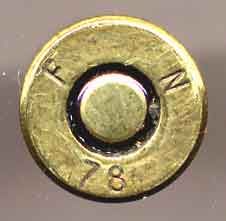 The case is 53,54mm long.
Overall length is 75,40mm
Casehead diameter is 12,02mm
Bullet diameter is 7,98mm
The bullet is copper jacketed and is non-magnetic, the headstamp is 'FN 78', the primer is brass and the annulus is very dark purple.
Happy collecting, Peter