The winner gets an all expenses paid 1 week vacation in Alex's house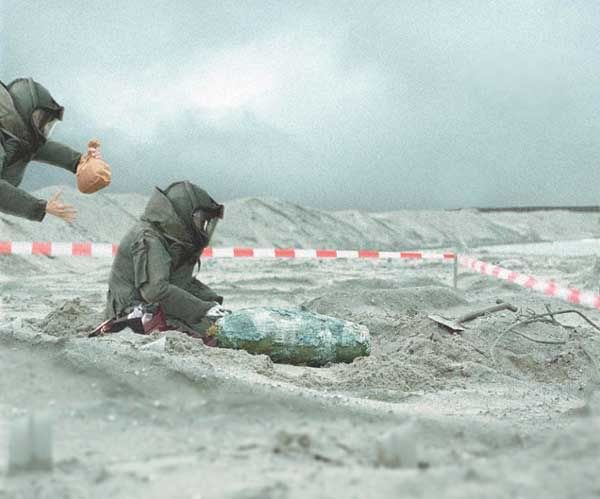 If the the winner will be able to clear all booby traps before, ok :)
Here some more fun:
If you are going to blow yourself to bits why bother with a sissy suit?
Wear your spiffy formal service uniform so that your fragments will still look smart.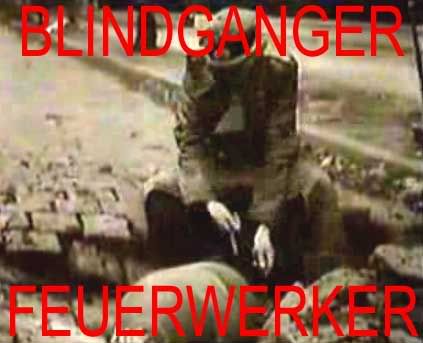 Were there EOD-suits in WWII?
Yes. Brown pants were official EOD uniform.
Ray
WHAT DIFFERENCE DID IT MAKE THEN OR NOW? IT IS A JOKE IN ANY EVENT UNLESS YOU ARE DISARMING FIRECRACKERS. THE LUFTWAFFE BOMB DISPOSAL OFFICER IN THE PHOTO WOULD HAVE BEEN HISTORY HAD THAT BOMB GONE OFF EVEN IF HE HAD BEEN WEARING REENFORCED ARMOR.
NOTE WELL THAT HE ISN'T EVEN WEARING WORK CLOTHES.
THAT WAS THE POINT.
MAYBE IT DOESN'T TRANSLATE WELL.
NOTHING HAS CHANGED.
HOW CLOSE TO HOW MUCH H.E. DO YOU WANT TO BE IN ONE OF THOSE SUITS ?
THE EOD MEN WHO I KNOW DON'T BOTHER WITH THEM IF THEY ARE WORKING ANYTHING OVER THE SIZE OF A HAND GRENADE.
IF YOU CAN DESIGN A SUIT WHICH WILL SUSTAIN LIFE WHEN A BOMB THE SIZE OF WHAT THAT LUFTWAFFE OFFICER IS WORKING ON BLOWS CONTACT ME RIGHT AWAY AND I WILL MAKE YOU A MILLIONAIRE.
If a spud that size goes off you are a memory whatever you are wearing.
LET ME TELL YOU ABOUT EOD AND BOMB SQUAD PEOPLE.
THEY ARE ALL CRAZY
THEY ARE ALL SUICIDAL
THEY CAN NOT IMAGINE THEIR OWN DEATH
THEY ARE ALL HEROES
GOD BLESS THEM ALL !
WHEN WE WERE DESIGNING THE EOD CLEAN UP OF KUWAIT WE HAD WELL OVER 1000 WHO COULD NOT WAIT TO GO. I TOLD THEM ALL;
THE PLACE IN ON FIRE

THE PLACE IS COVERED WITH OIL

THERE ARE EOs EVERYWHERE

THERE ARE NO FACILITIES

THE WEATHER SUCKS

THE PLACE IS THE SUBURBS OF HELL
THEY COULDN'T WAIT !
I REST MY CASE.
THERE IS AN EOD T-SHIRT WHICH SAYS "IF YOU SEE ME RUNNING - RUN"
IT IS A JOKE. THEY DON'T RUN UNLESS IT IS TOWARD A DANGEROUS EXPLOSIVE DEVICE.
SO, RUN THE OTHER WAY IF YOU ARE NOT EOD.
A little US Navy humor:
Gunners Mate - "I'm going to wear my red shirt. If this gun explodes I don't want my friends to see all the blood."
Bosuns Mate - "Good idea. I think I'll wear my brown pants."
[quote="sksvlad"]Here is basic British EOD suit usage in WWII
youtube.com/watch?v=YVAZmF2d8es
youtube.com/watch?v=RBSbCsha35Q[/quote]
THIS IS THE BEST SERIES EVER MADE ABOUT BOMB DISPOSAL. I HAVE WATCHED IT SEVERAL TIMES. THESE GUYS LEARNED THE HARD WAY ABOUT GERMAN ANTI-REMOVAL FEATURES. ONE THING NOT COVERED SO WELL IS THE FACT THAT THEY OFTEN WORKED WHILE UNDER ATTACK !
ARE THERE ANY FILMS ABOUT GERMAN OR SOVIET BOMB DISPOSAL CREWS ?
Danger UXB is a great series. I to have watched it several times. There is also a new EOD movie coming out "The Hurt Locker" I think it has released overseas already but will be out soon in the US.
Thanks,I will look for it. Also looking for movies about German and Soviet bomb disposal, if any. There is a B&W movie about German bomb squad removal under Allied control after the war but it is not so good.
My favorite:
My MOS in the Marines in Korea was 0334. Had to put in and take out a few mines and pull several dud mortar shells out of the dirt. Our protection was our skivvy shorts and helmet! Have the whole set of Danger UXB CD's. Drag them out to take a look at least once a year. Often wondered if the British enlisted men were more valuable than officers as they always used officers to defuse the bombs!! Never saw a booby trapped mine over there so EOD work was not too nerve wracking. By the way the mortar shells we dug out were fired without detonators.
Gourd