I just returned from the Meeting of the German group of the ECRA. Excellent show. Thought I'd share some of the treasures I found there!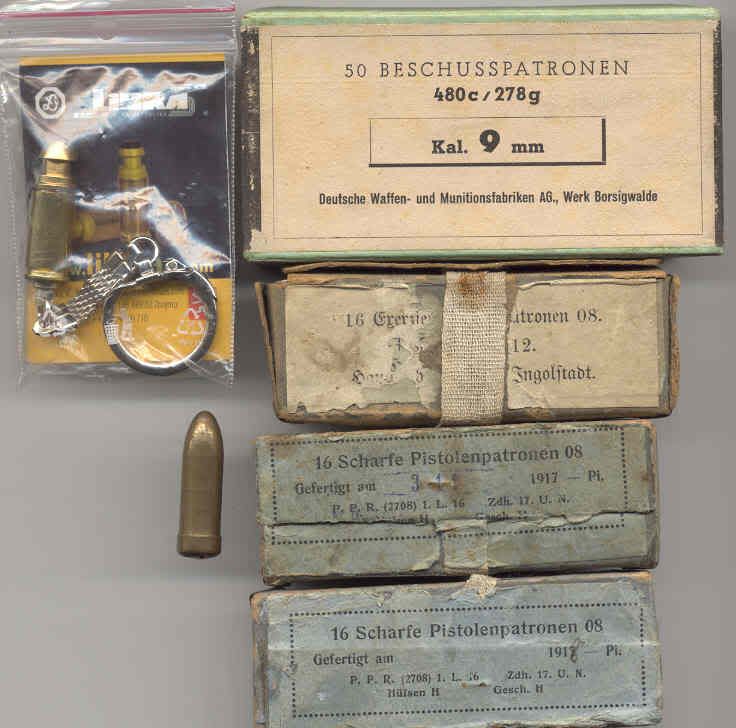 The top DWM proof box is full and sealed. It is probably ask * 7 41 green base proof loads (many years ago saw a similar box with these). The Ingolstadt Arsenal box was also full of the drill loads with truncated bullets (hollow jackets) headstamped J 4 11 and J 7 12. The key chain is a repro of the Snail bullet with the Libra logo impressed in the tip. Finally I found a Meppen 9mm Rocket round, one of only 4 that I know exist (if anyone has one please let me know).
Also picked up some other interesting ammo, Libra extended case blank, a new German load headstamped Top Shot 9x19 and a reloadable blank by PPU. Finally, I found a 4th headstamp style from the Kenyian Ordnance Factory. All four have shown up on fired cases reloaded in Europe!
A quick trip after SLICS, and I likely will pay with Jet Leg tonight, but well worth the trip. Best selection of German ammunition you will see at any single show. The only downside was the 5 kg weight limit for the return flight. Had to leave some of the stuff I bought for the collection in Germany, maybe for another trip. Lots of good non-9mm stuff that I would have loved to bring back for SLICS, but no way to fit it in the weight limit.
Cheers,
Lew