Recently I have picked up some weapon safeing cartridges in 9x19mm which are designed to put in the chamber and have a tell-tale tag showing that the gun does not have a live cartridge in the chamber. These are like the safety pins used on fighter aircraft to safe weapons and racks and ejection seats and landing gear on the ground. Each pin has a large red flag to make sure it is seen and removed before takoff
The three orange plastic items are made by SAFE TECH Inc. in Knoxville. Their website also shows an earlier all plastic version of the long tab item with an extractor groove. Except for being all plastic it is like the brass base round. they only sold the all plastic with the extractor groove for a very short time before going to the brass base. Has anyone seen one of the all plastic with the extractor groove???
The other two are by SC in Italy and so marked on the flag. Both are made in other calibers. The cartridges are from aluminum-red anodized and plain finish.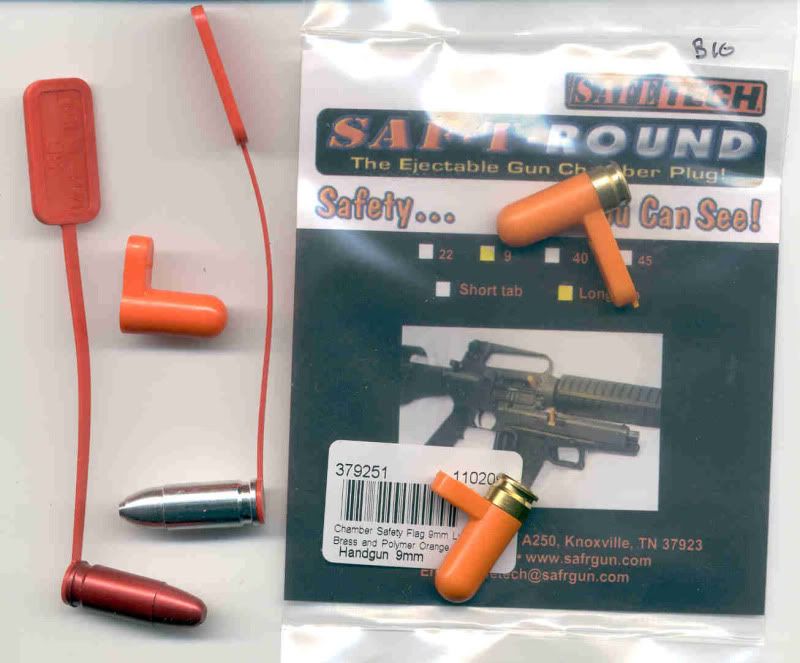 Are there any other Safeing cartridges similiar that anyone knows of???
Cheers,
Lew