As requested in another thread, here are two pics of a .50-caliber, aluminum case 12.7x36.9mm Gyrojet developed by MBAssociates (MBA) under a NASA contract in the 1960s. The purpose of the rocket was for satellite defense, and the idea was that if a U.S. satellite detected an enemy satellite or warhead about to attack, the U.S. satellite would fire one or more of these rockets to destroy or disable it. During testing (on the ground), the rocket achieved 3,500 feet per second (fps). In theory, it could have flown at 10,000 fps in the vacuum of space with zero aerodynamic drag. Mainhardt (the "M" in MBA) reminded me of the formula F=MA, where F (force) equals M (mass) times A (acceleration). In other words, a very light projectile such as a small aluminum rocket with a phenolic nozzle can do a lot of damage if it's going fast enough, and 10,000 fps is pretty fast. According to Mainhardt, aluminum was selected as the case material and a phenolic composition for the 4-port nozzle because it was so expensive to lift anything to orbit, and weight needed to be at the minimum possible.
Gyrojets have their own oxidizer in their nitrocellulose propellant, so they function in space (and underwater). Gyrojets have no recoil at launch, and their launchers can be very simple and light, both desireable characteristics for a projectile to be fired from a satellite.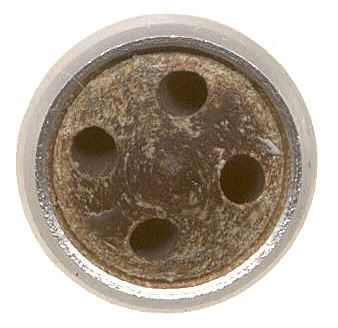 The rockets weighed 102.7 grains (6.65 grams), and the propellant weighed 39 grains. They were ignited by fuses run through one of the nozzle ports.
Also of possible interest, MBA had another NASA contract in 1961 for a feasibility study of a hypervelocity gun that would fire small projectiles at up to 100,000 fps to simulate micrometeorites, which NASA thought would be dangerous to spacecraft. MBA used a 1.3-pound high explosive detonation to compress a magnetic field to very high flux and energy levels, and then as the field expanded (theoretically at the speed of light), it would accelerate particles to a very high velocity. By July 1962, MBA had achieved velocities of 32,800 fps, proving its hypervelocity gun was at least feasible.
I don't know of any Gyrojet rocket or firearm that was actually carried in space, but if a weapon was to be carried, a Gyrojet would have been the perfect choice. Hope that helps.