Not a collector per se but having viewed a few web site must say it is a hobby l had never thought of.
My current interest is in metal detecting and while doing so recently onthe beach at St. Augustine Florida came upon what l believe to be a projectile from a 20 mm canon.
It is magnetic so it is not lead though the very tip (though corroded) may be lead and in the centre of the tip is imbedded a brass? rod that appears to have been inserted into the projectile.
I am researching this for two reasons 1) Is this an exploding head projectile (possibly a dud) and dangerous and 2) curiousity of history of how this came to be on a public beach
I have attached photos for your viewing and wish to thank you all for your time and courtesy.
[/url]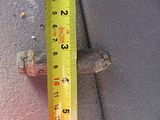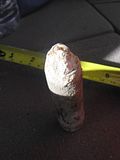 [/img]