Found some 9x19 head stamps that I have never seen before while surfing the net.
Steve
The top cartirdge is a product of Prvi Partizan, 31000 Titovo, Uzice, Serbia as indicated by the code PP. This is one I am looking for so if anyone has even a fired case they want to sell or trade for please let me know. The trade/sale may surprise you.. I have no idea what thbe OL on this headstamp means!!!
The second headstamp is made in Croatia by a firm named M-90. The box top only says M-90 in a logo. the box end wiht the address is below.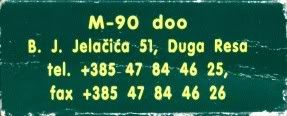 The bottom headstamp is by Pov